I grew up in the east of Belgium, in a small village in Limburg. I then moved to Antwerp, and I've now been working and living here for more than 10 years. I feel completely at home here. People often ask me if I would ever move out of Belgium, as I love to travel and spend so much time abroad. But Belgium feels like a real home to me, and I love the security and comfort I have here. It's a mesmirising country, though often underrated – which is exactly why I'm going to take you to the most beautiful places in Belgium in this blog.
Belgium is a small country, so it's super easy to travel through. Travelling from the north to the south takes no longer than 3 hours by car. Along the way, you're spoiled with stunning architecture and astonishing scenery. 
The cities of Bruges, Brussels, Antwerp and Ghent are without doubt the top cities to visit in Belgium, so definitely add them to your to-do list. You can also opt for a day by the sea, or immerse yourself in our gorgeous natural scenery on bike or foot. Belgium has something to offer everyone and besides the fickle weather, it's a beautiful country that will charm you instantly.
Belgium is associated with beer, chocolate and football (and of course, everybody knows us for holding the record as the country who's gone longest without a government). Some people tend to make fun of our tiny spot on the world map. But fortunately, Belgium is so much more than just the place where you can eat the best fries and chocolate in the world.
** Disclaimer: This post contains affiliated links which means that purchases made through these links reward Bey of Travel a small commission without any additional charge for the purchaser.** 
Public transport in Belgium
Brussels Airport is one of the most important hubs in Europe, so it's easily accessible from all corners of the globe. We also have airports in Deurne (Antwerp), Charleroi and Ostend.
We have an extensive train network, with direct trains from Brussels to Paris, London and Amsterdam (among others). When you're in Belgium, you can reach all cities by train… although I have to be honest, our public transport is quite expensive and does not always run punctually.
You can also easily move around Belgium by car. There are good highways that help you move around the country quickly, but just beware of our rush hours. Driving around the major cities between 7-9am and 4-6pm guarantees you'll stumble into a couple of traffic jams.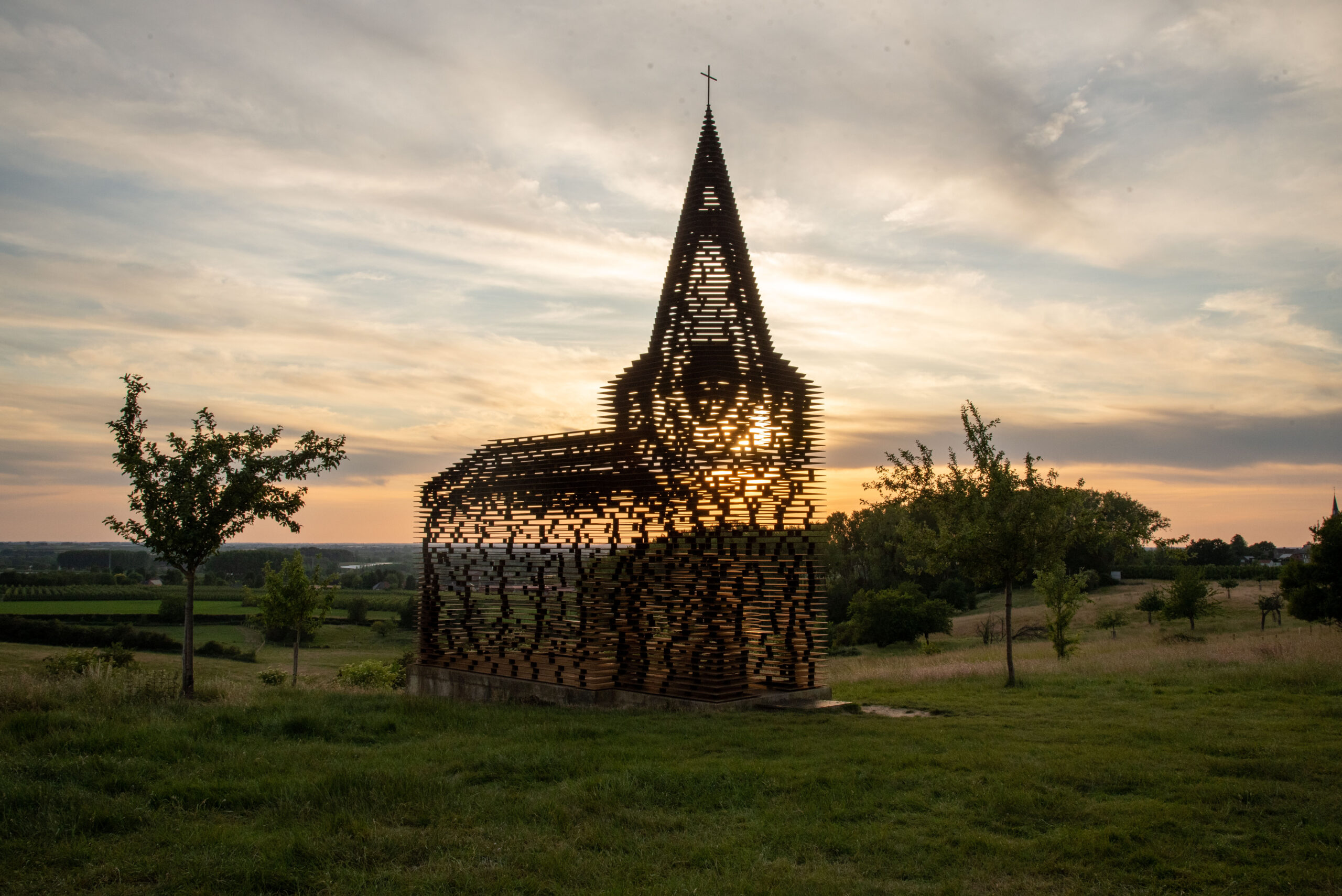 Most beautiful places to visit in Belgium
From the fashion capital Antwerp to hiking around Le Tombeau de Géant or visiting historic castles, there's never a dull moment in our underrated European gem. Keep reading to find out more about the most beautiful places to visit in Belgium.
Discover the Lommelse Sahara in Beautiful Limburg
Yep, you read that right – sand dunes in Belgium.
My favorite spot in Belgium is without a doubt the Lommel Sahara. This is where I grew up, and I still love to visit this beautiful park in the north east time and time again. You can enjoy a pleasant hike, indulge in a picnic with friends by the water, or just relax and do nothing in the tranquility. It's one of the most beautiful natural areas in our country, and I highly recommend it to everyone! You can even grab yourself a free hammock on-the-go when you register at the info desk.
Address: De Souverein, Sport Veldstraat 10, 3920 Lommel. The park has a huge parking lot where you can leave your car.
Go for a bike ride in the beautiful region of Maaseik
Did you know that Maaseik is part of a cycle path network of over 2,000 kilometers – most of which are completely car-free and pedestrian-only? 
The unique road system, the convenient cycling map (for sale at Maaseik Tourism) and the handy number plates at each junction help you find your way without a hitch – even if you spontaneously divert from your intended course. You can find more info about Maaseik here. 
Hotel tip: For an overnight experience in nature, you should stay at Warredal, Maaseik. Sleep under the stars in a treehouse in the middle of the forest!
Visit the Helixagon
Helixagon comes from 'Helix' and 'Hexagon', two figures that occor frequently in nature. The artwork from Frederik Vaes is a playful ode to nature and the bee. A tilted and twisted hecagonal viewing tube on the beautiful landscape.
Adress: Rodestraat 3350, 3350 Linter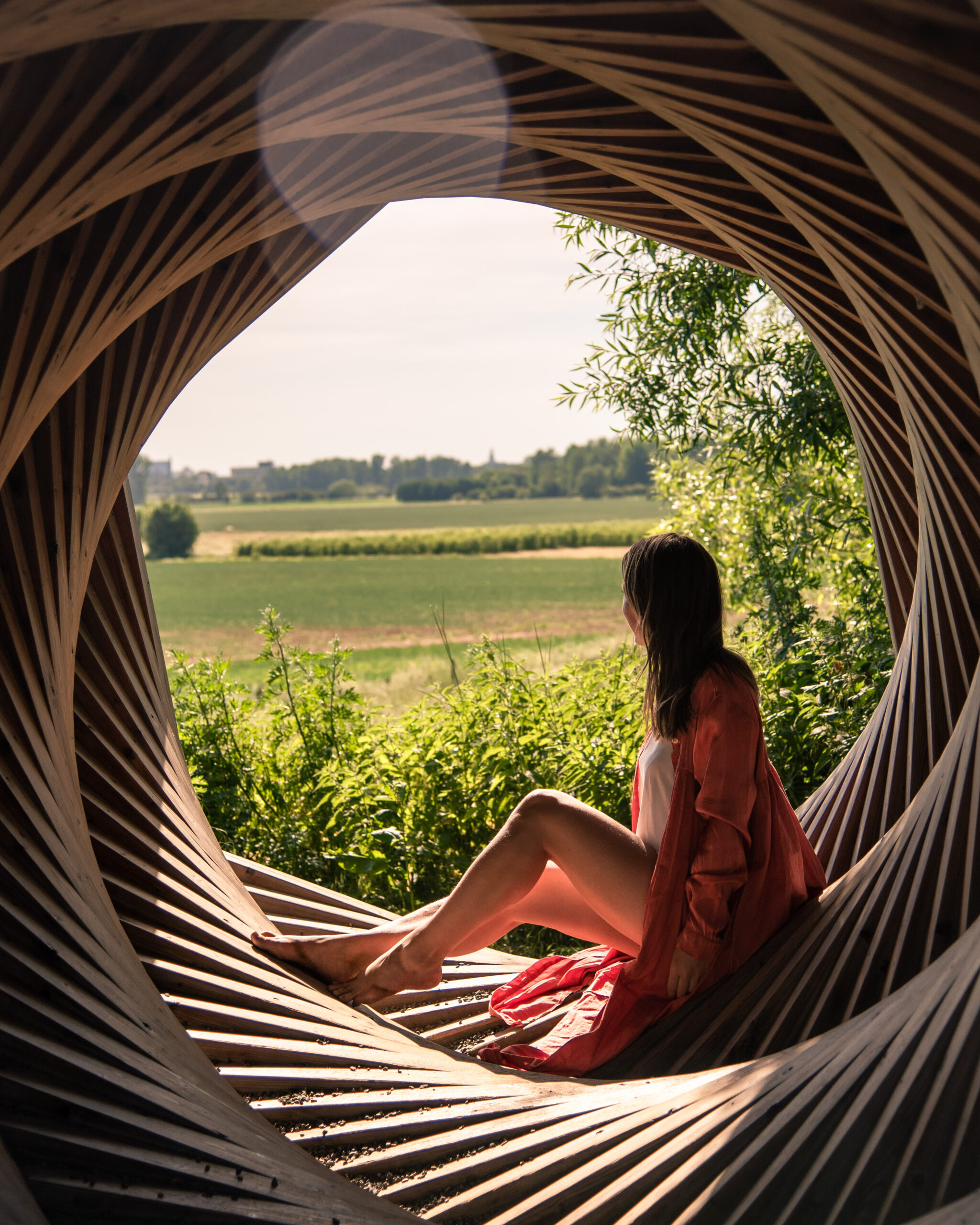 Reading between the lines
Want to see something truly unique during your trip? The architect duo Gijs Van Vaerenbergh built a breathtaking transparent church in Borgloon. The beautiful landscape is visible through the church, both from a distance and up close. The unique church appears both present and absent from the landscape at the same time.
The construction weighs no less than 30 tons. It's 10 meters high, and consists of 100 stacked layers of steel plates in the shape of a Loons church. Visit it during sunset to witness the colourful setting sun shining through the church!
Address: Grootloonstraat 2, 3840 Borgloon. 
Hotel tip: Stay at Hoeve Roosbeek. You can find more details here.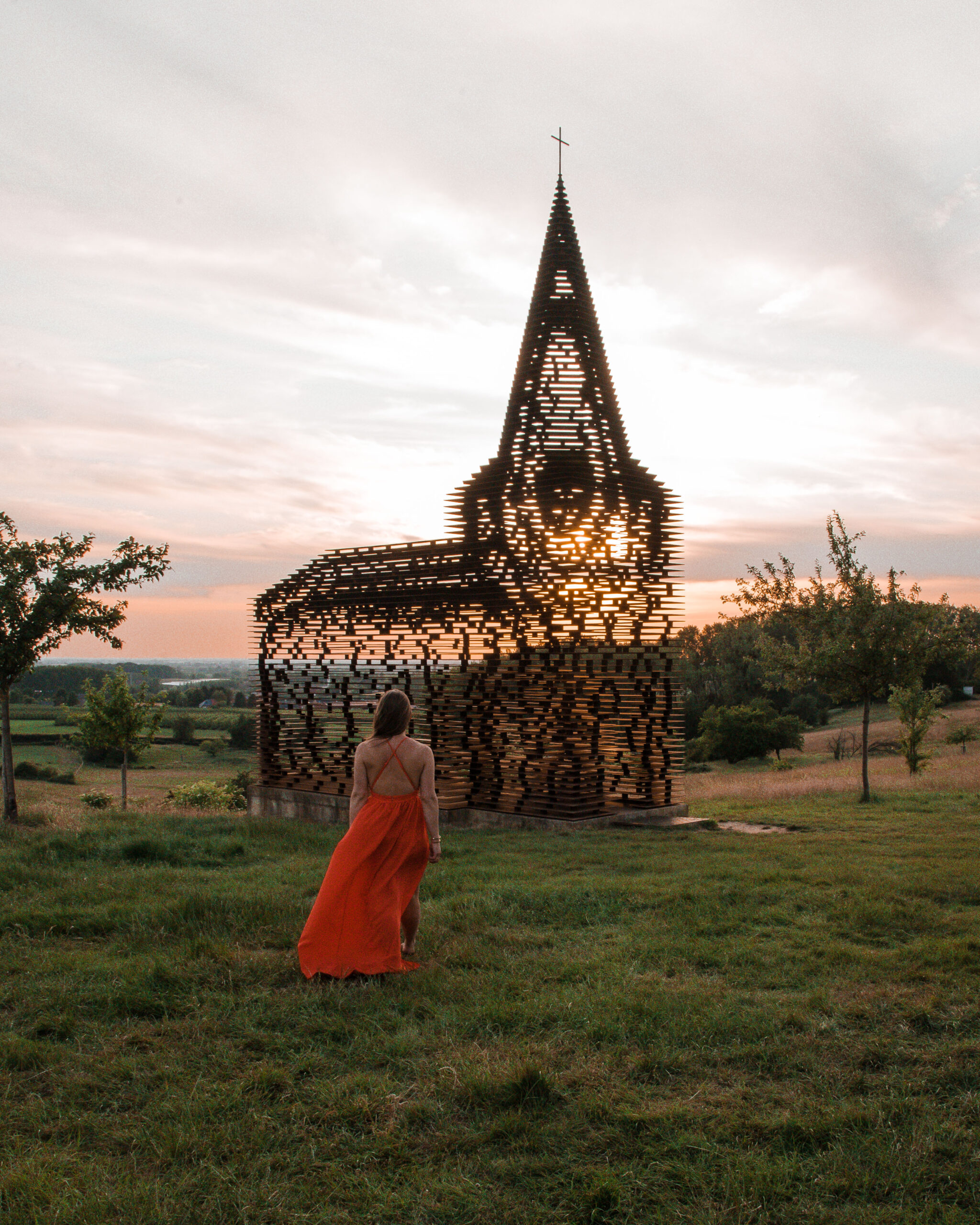 Vlooyberg Tower (Vlooybergtoren)
This floating staircase is made of stainless Corten steel, with a colour that reflects the iron sandstone heritage of this part of Belgium. The Vlooyberg Tower is over 20m long and 11m high. It serves as a lookout point, and it's located at one of the highest locations of the Hageland (around 80m).
Address: Oudepastoriestraat 22, 3390 Tielt-Winge
Horst Castle (Kasteel van Horst)
This water castle can be found in the green valley of the Wingebeek, nestled between the hills of the Hageland. The castle, with its large pond and moat, is home to the famous Belgian cartoon character De Rode Ridder by Willy Vandersteen. A beautiful parkland extends around the castle, owned by the Agency for Nature and Forests.  
Address: Horststraat 28, 3220 Holsbeek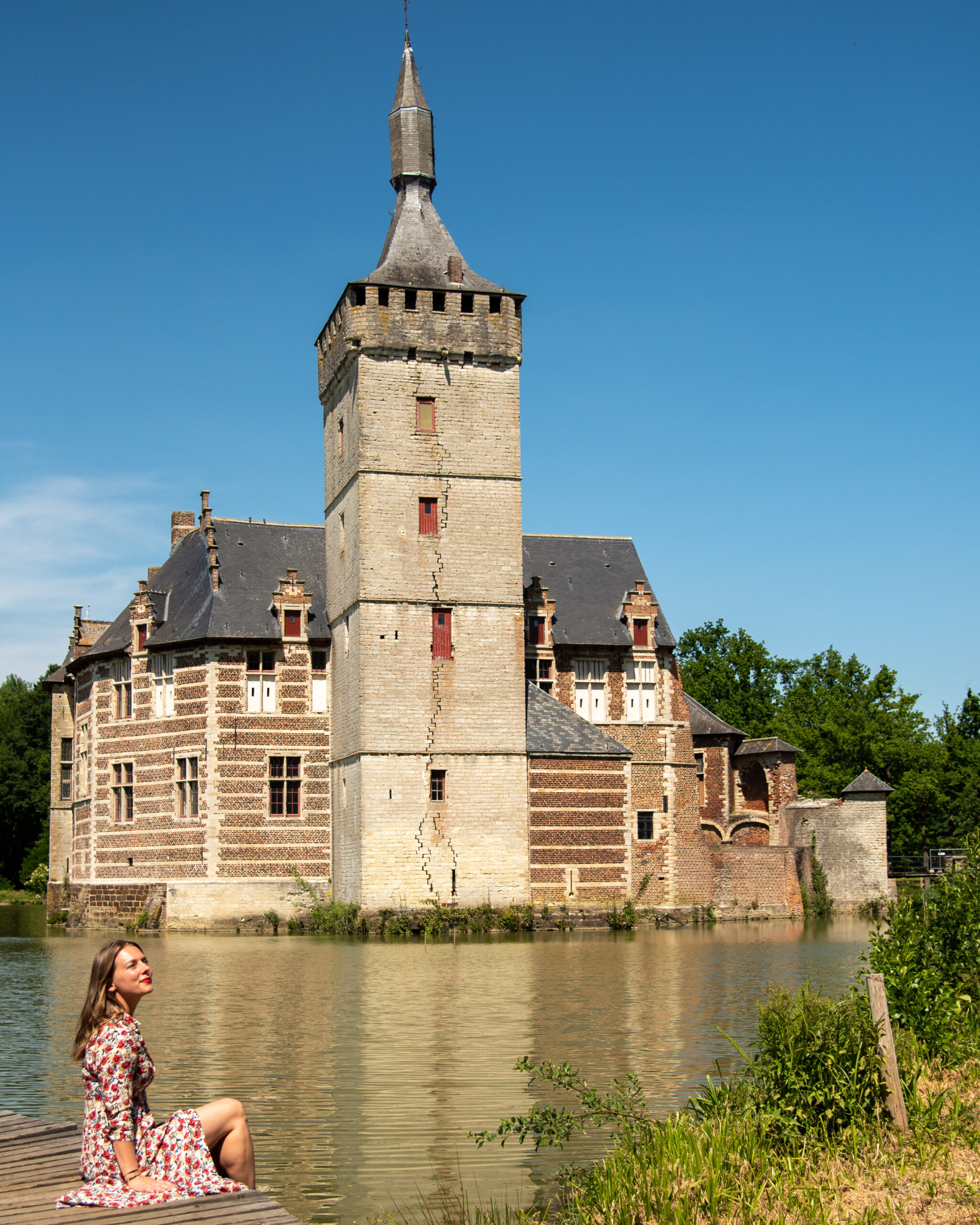 Cycle through the blossoms in Haspengouwen
Haspengouw guarantees stunning sights all year round, but April is by far the best month to explore this region. Make sure you've got your camera handy – all the trees are in bloom at this time of year, so you're guaranteed a wonderful one-of-a-kind floral display! 
The trees only bloom on average around 10 days per year and it's difficult to predict exactly when this will happen, so do some research before visiting to avoid disappointment. 
Hotel tip: Stay at Hotel Restaurant Vous lé Vous. You can find more details here.
Stroll through the Inner Streets of Ghent
When it comes to the best cities to visit in Belgium, Ghent is a super fancy city for both architecture and shopping. You'll find plenty of boutique shops in a gorgeous authentic setting. Be sure to sit and enjoy a drink or a snack taking in the beautiful view over the water, or take a boat trip through the city center.
When in Ghent, you must try their local sweet, the cuberdon! A cuberdon is a traditional cone-shaped Belgian piece of candy from the East Flanders Region. It's hard on the outside but gelatinous on the inside – and it has a really short shelf life. Because of this, it's only available in Belgium, making it a delicious exclusive treat.
Gravensteen Ghent
A visit to the mystical castle 'Het Gravensteen' absolutely cannot be missed on your to-do list of the most beautiful places to visit in Belgium. 
This important sight in Ghent is a castle with a very turbulent history, closely intertwined with the complex political and social history of the city. It's the only remaining medieval moated castle with an (almost) intact defense system in Flanders. Your visit to the Gravensteen will give you a complete picture of knight culture in the 12th century in Belgium.
Address: Sint-Veerleplein 11, 9000 Ghent
Visit Central Station in Antwerp
Antwerp is definitely one of the best cities to visit in Belgium – but did you know we have the most beautiful train station in the whole of Europe? Whether you actually need to take a train or not, you definitely need to check out this amazing station when visiting Belgium. If you want to snap some Insta pics in the station, make sure to be there around 6am – the station becomes extremely crowded in the early mornings!
Address: Koningin Astridplein 27, 2018 Antwerp
Hotel tip: De Gulde Schoen, you can find more info and details here.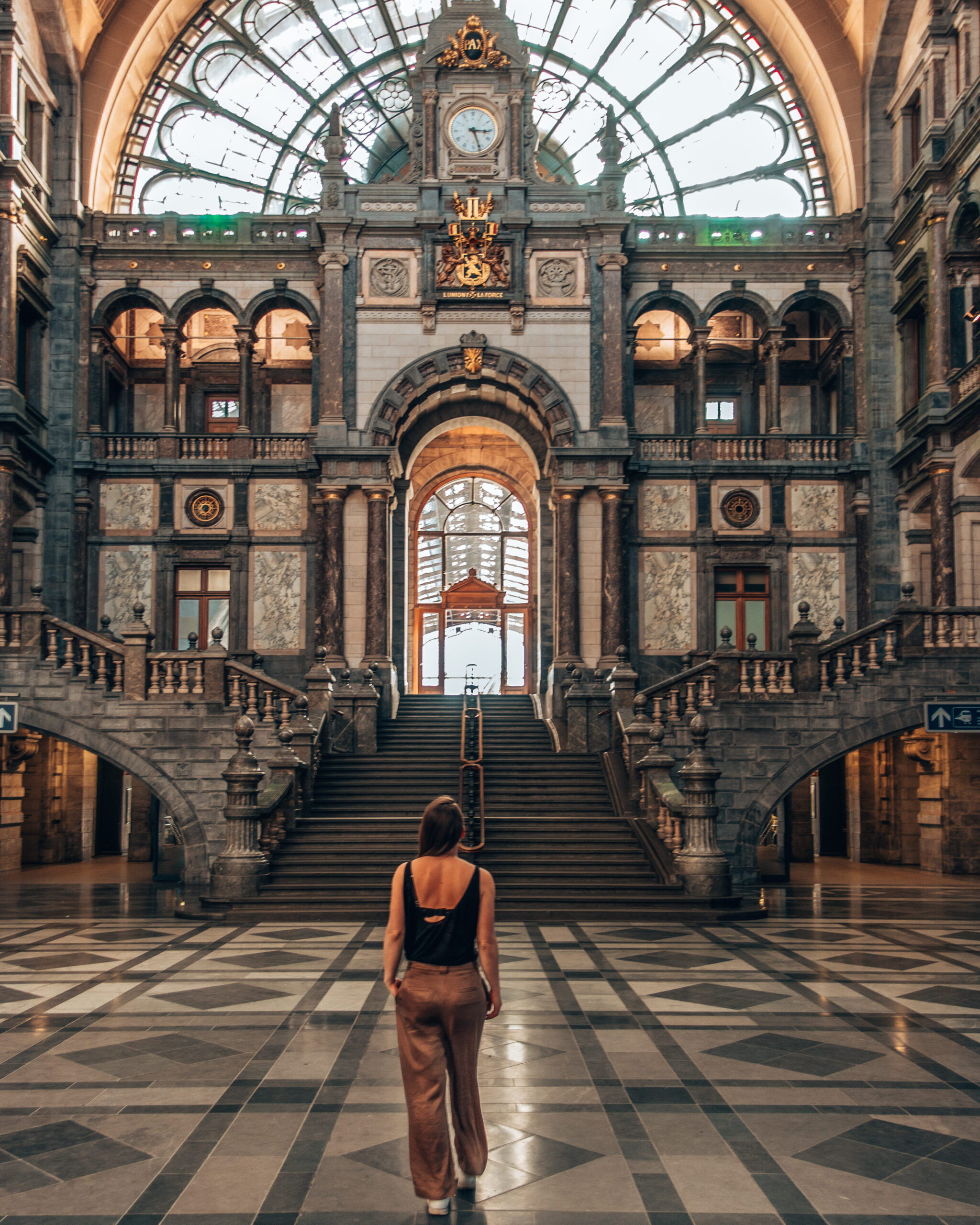 Tomorrowland
Many visitors worldwide flock to Antwerp every year for this world-famous festival. Is it really worth the trip? 
The short answer is yes! It's simply a phenomenal festival that will blow you away. Not just because of the music, but also through all breath-taking details like the podium constructions, mystical signalizations, unique lighting concepts and much more. Tomorrowland is truly a fairytale. The festival takes place each year in July, with different types of tickets going on sale far in advance.
On a troll hunt
Missed out on your chance to grab a ticket for the festival? No worries – the De Schorre domain is a beautiful slice of nature in Belgium. It's also a great day out with children. You can do a pleasant walk here in search of trolls that are hidden deep in the forest. There's also a barefoot path that the kids will love – I highly recommend a visit!
Address: Schommelei 1, 2850 Boom
Astonishing little alley in Belgium 
Discover the most beautiful alley in the country: De Vlaykensgang in Antwerp. The alley used to be home to shoemakers who had to sound the cathedral's bell, and the poorest people in the city used to live here. It's now filled with antique shops, galleries and even an exclusive restaurant, Sir Anthony Van Dyck. 
The alley dates back to the year 1591 and connects the Hoogstraat, the Oude Koornmarkt and the Pelgrimstraat. When you step through the gate at Oude Koornmarkt 16, you imagine yourself in another time. You can find a more detailed blog post about Antwerp here.
Gallery Saint- Hubert Brussels
If you are spending a weekend in Brussels, you need to visit the Gallery Saint Hubert. Initiated by the architect Jean-Pierre Cluysenaer, the spectacular Galeries Royales project took shape in the 1830s. The works began in 1846 and were (almost) completed in time for the official opening on 20 June 1847. The gallery includes several shops, auditoriums, cafes, restaurants and apartments. Right away, it became the place to be seen for the fashionable. Instantly the Royal Galleries of Saint Hubert drew a wide audience attracted by the many luxury brands, elegant cafes and cultural hotspots. 
Address: Galerie du Roi 5, 1000 Brussels. 
Grand Place Brussels
Brussels is without a doubt one of the top cities to visit when in Belgium. Stroll around the Grote Markt, enjoy the famous landmarks and most spectacular historically-preserved architecture in our country! You'll also find plenty of nice souvenir shops, and the finest chocolate from the world's most famous chocolatiers. 
Hotel tip: Pillows Grand Boutique Hotel Place Rouppe.
La Hulpe Castle
La Hulpe Castle is located in the heart of a vast domain classified as an exceptional Walloon heritage. This castle is without a doubt one of the most beautiful places to visit in Belgium. It was once owned by Count Solvay and the architecture is based on the French castles. It is a beautiful area to enjoy a pleasant walk, they even welcome dogs in the park!
Adress: Chaussée de Bruxelles 111, 1310 La Hulpe
Visit the Walzin castle
 Walzin Castle is located in Dréhance, which is a part of the greater area of Dinant, in the province of Namur. This neo-gothic castle stands on a steep rock above the right bank of the Lesse, where the river flows over into the Maas. It's a beautiful castle, definitely worth a visit from afar. Though as it is a private domain, unfortunately it's not possible to visit the castle itself. Despite this, the castle is still one of the most beautiful places in Belgium to visit.
Address: Rue de Walzin 1, 5500 Dinant
Wander through the Beautiful City of Dinant
Dinant is without a doubt one of Belgium's most hidden gems. Historically speaking, its location on the water and along multiple trade routes supported the economic development of this charming town. Dinant is located in the French-speaking municipality of Namur, and is known for its colorful scenery. It's a perfect blend of culture, adventure and nature. I have to admit I only discovered Dinant recently! Because of coronavirus, I was unable to travel abroad – so I was 'forced' to explore my own country a bit more. It was a real pleasure to tick this city off my Belgium bucket list.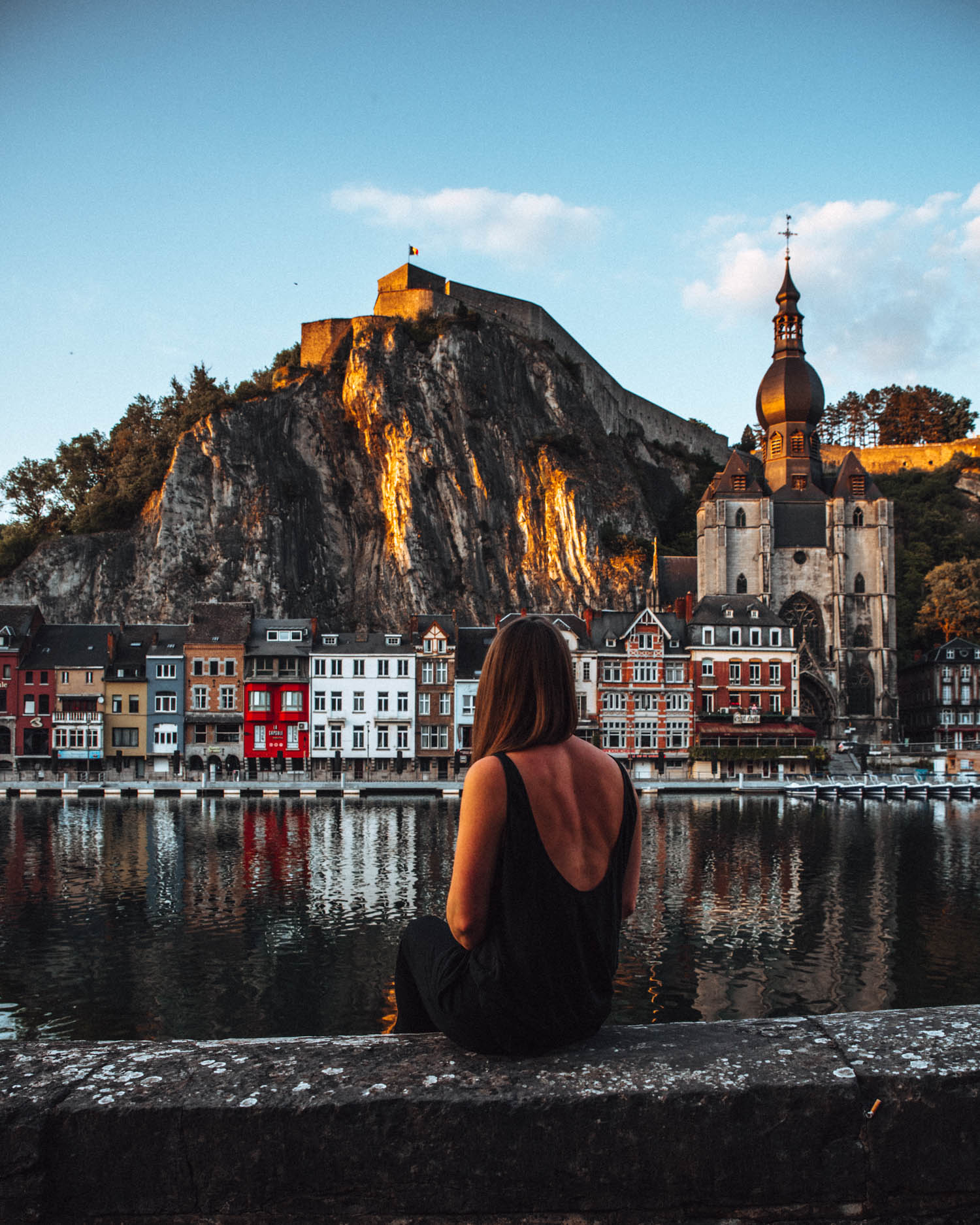 Park Furfooz
 A place for both young and old to enjoy! The park of Furfooz near Dinant invites you to enjoy its archaeological, natural and geological heritage. You can discover it to the fullest during a pleasant walk, around 4 kilometers long, along the edge of the river Lesse.
Entrance fee: 5 euros. Address: 79 Rue du Camp Romain, 5500 Dinant
Fondry des Chiens
Close to Nismes lies Fondry des Chiens, a protected and unique place in Belgium (occasionally referred to as the Belgian canyon). Millions of years of reclamation in the limestone have created this huge canyon, which reaches up to 20 meters! In short, a unique piece of nature in Belgium and definitely worth a visit.  
Go hiking near le Tombeau De Géant
Belgium's nature at its finest! Hidden in the most southern point of our country is without a doubt one of the windiest places in Belgium – you will be blown away by its pure beauty! This place helps you forget all your worries while enjoying the sweeping panoramic view and a wonderful hike through the Belgian Ardennes.
Address: Moulin du Rivage , 6833 Bouillon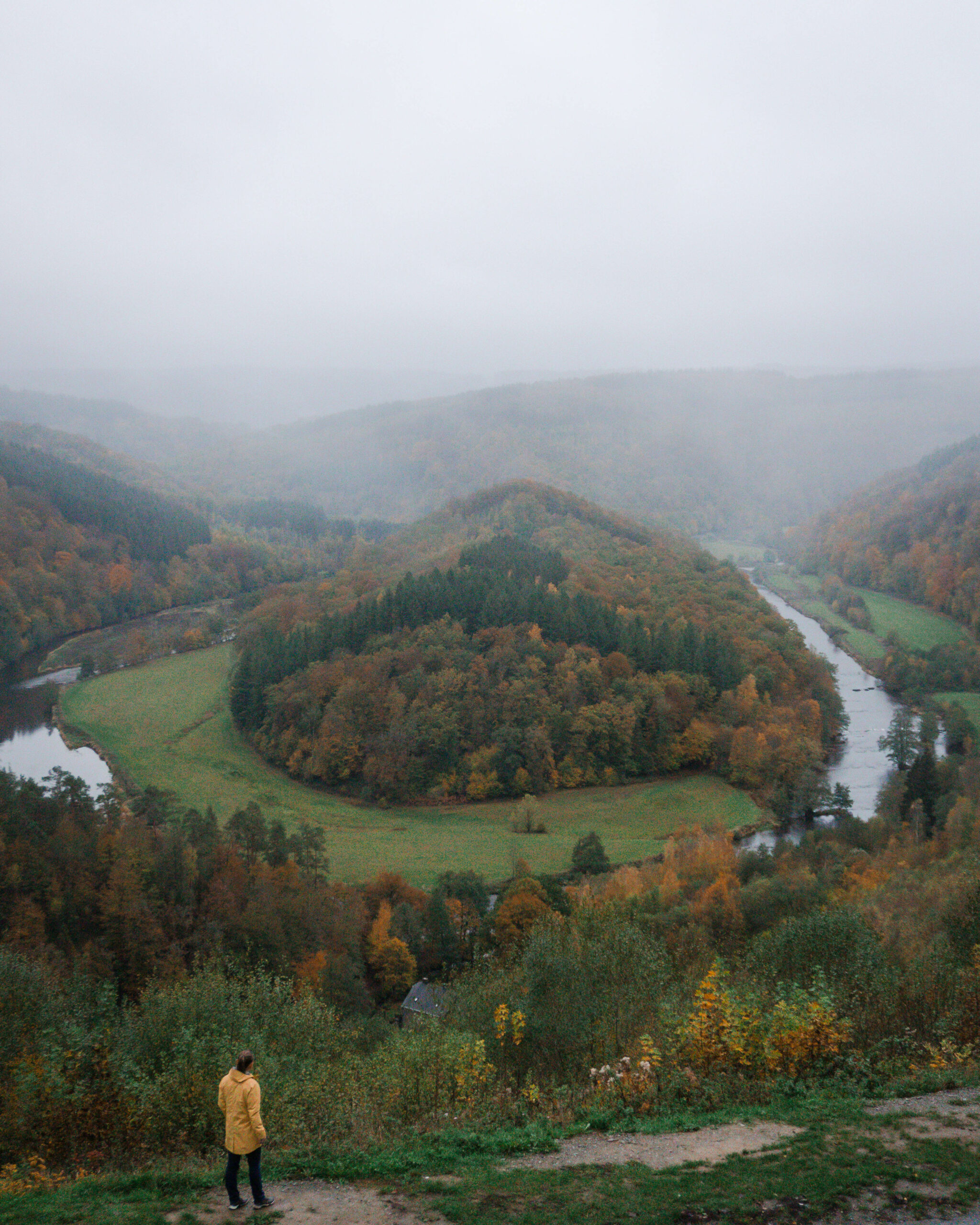 Rocher Du Hat
Without doubt one of the most beautiful sights in Belgium is Rocher Du Hat. Located in the picturesque village of Chiny and hidden deep in the forest, you'll stumble across the perfect place to get away from all the stress and bustle of our everyday lives with your whole family.