If somebody had asked me a year ago to go to the East of Belgium to explore Maaseik, my heart wouldn't have immediately beaten faster. But fortunately, Corona has made me reflect on sustainable travel – particularly when it comes to travelling closer to home. Over the last few weeks, I've taken the time to fully discover what Belgium has to offer –  so I was truly filled with joy when we were invited to go on a 2 day adventure by Tourism Maaseik. A staycation in my own country and back to my roots, because as most of you already know, I come from 'de Limburg'. And let's be honest, nobody in our country is as sweet, kind and welcoming as Limburgers. So I jumped in the car with a big smile on my face, heading towards the recreation area Warredal in Neeroeteren.
**disclaimer: This is a sponsored post but this doesn't change the fact that I share my own honest experiences.**
Our stay in Maaseik
To kick start our stay in Maaseik, we arrived at a gigantic domain, passing through a meadow full of deer and horses. We were warmly welcomed by the tourist office of Maaseik, most of all by our guide Lieve Weetjens. We went over the program for the next two days. It was definitely a jam-packed schedule – and we found out we were going to get lots of lower body exercise during our trip as well! The program showed several cycling activities (and by several, I mean a lot). 
We decided to have lunch before jumping on the bike. Just one kilometer from the domain is Brasserie ' t Bakkemieske, where we enjoyed a delicious scampi salad. They have a splendid terrace under the sun, a large playground for children and most importantly, they provided a top service! It was a wonderful way to begin our stay in Maaseik. 
After lunch, we kicked off our cycling tour. Did you know that Maaseik is part of a cycle path network of over 2,000 kilometers – most of which are completely car-free and pedestrian-only? The unique junction system, the convenient cycling map (for sale at Maaseik Tourism) and the handy number plates at each junction point help you find your way without a hitch, even if you want to spontaneously divert from your intended course.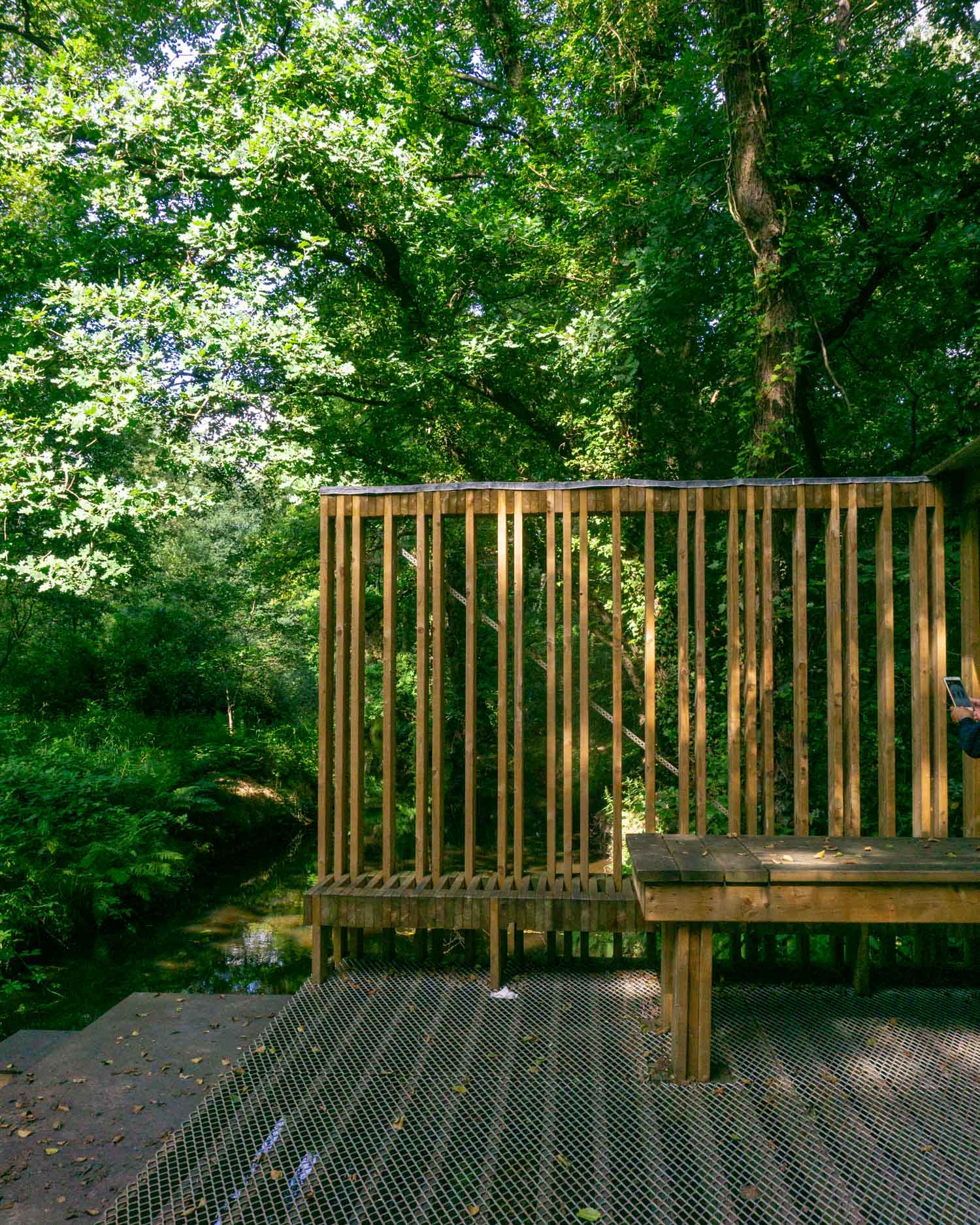 We were well equipped for our rides with a couple of electric bicycles from Maro. You can rent an electric bicycle here from 30 euros/day, including an assistant and replacement service in case of malfunctions. This was my first time on an electric bike, and it was such bliss! We cycled along the most beautiful viewpoints, and met some retired gentlemen who were simply enjoying nature and the views while resting on a bench. I immediately understood why they spent their day here, in the middle of pure nature, overlooking the boats sailing quietly through the water. Realizing how wonderful life is here in Maaseik, I felt the tension in my body disappear and relax (for the first time in a long while).
We paused our bike ride for a walk in the Duinengordel. The three areas of the Duiengordel lie only a few kilometers away from the National Park, but show you the typical landscapes of the Hoge Kempen. A wonderful surrounding for stretching your legs!
A little later we visited some mills. As a visitor, you can see the water mills in their traditional way and learn many things about them, thanks to the mill guide who enthusiastically tells you endless facts and stories. Unfortunately these visits to the mills aren't operating during Corona, but luckily the city has found a solution. Download the Heritage app on your smartphone to add an extra dimension to your bike rides or hikes. In GrensPark Kempen – Broek, you can use the app to run the waterwheel or millstone of an ancient watermill. You can use your smartphone as a virtual key on the ports of many mills.
We ended our first day with a delicious dinner on a small island in Neeroeteren in Brasserie Fabulous. It was such an idyllic place to be. The restaurant is hidden behind boats in a beautiful setting – the ideal place to enjoy a cocktail and a stunning sunset. You can also go for a kayak trip here on the Zuid-Willemsvaart.
We spent the night in nature-lover's paradise
We spent the night in an exclusive treehouse in the Warredal recreation area, located near the Hoge Kempen National Park and the Bergerven nature reserve. Every nature lover, young and old, is certain to fall in love with this place. Sleep peacefully among the trees in the middle of nature (without WiFi)! It's ideal for a romantic weekend for two or an adventurous weekend with the whole family. There are plenty of activities to experience in the adventure park, like laser tag, bumper ball, archery tag, stick hockey… and there's even a climbing park! In addition, you can also go hiking or cycling in the area. 
We headed to the water on bike
During our second day we discovered the Maas Valley by bicycle. The Maas Valley guarantees hours of hiking and cycling fun. Over the centuries, the Maas modeled a versatile and fascinating landscape in Limburg. It's so wonderful to simply relax here. In the coming years, the RivierPark Maasvallei will develop itself into a unique ecosystem of 2500 ha. This area is also the ideal backdrop to practice nature-related sports.
By the way, there's a good chance that you'll suddenly see a group of wild Konik horses during your trip along the Maas. These horses feel perfectly at home in the rugged nature. They live here all year round and are self-reliant, thanks to their strong bodies. The horses live in a naturally organized herd and influence the development of the ecosystem with their manure.
Growing tired of cycling, or just fancy trying something new? Try your hand at some paddleboarding on the Maas at SUP Club Maasvallei. SUP originated in Hawaii and stands for Stand Up Paddleboarding. It's really easy to pick up – you simply stand on a board with a long paddle to move around. It is one of the newest water sports, and can now be practiced in Limburg. 
We ended our wonderful relaxation weekend with a lunch in restaurant De Bokkerijder at 26 Grote Markt in Maaseik. It is the oldest restaurant in the city, where you can sample our delicious Belgian cuisine, with a French touch and the best service.
Explore Maaseik: Other things to do in Maaseik
Besides outdoor cycling, there are still a lot of other wonderful things to do in Maaseik. Moreover, the city is located right in the middle of the Euroregion, making it the perfect base to explore. Both the Netherlands and Germany are nearby, which is ideal if you're looking for a trip that is a little longer than a weekend away. 
2020 would have been a year full of fun activities for Maaseik, but unfortunately Corona put a stop to that. They're moving their wild summer plans to next year but don't worry, there's still a lot of fun planned for the coming months. Check out the website for all the events.
Saint Lambert Church of Neeroeteren
Until October 2020, 'Flemish Masters In Situ' will be taking place throughout Flanders. The Flemish government and Public Art Property Flanders spotlight works of art created especially for a specific location, which are still in their intended local setting. This event helps special works of art in smaller cities receive the attention they deserve. You can also enjoy a dazzling interior in the Sint-Lambertuskerk.
Explore Maaseik by night
Do you fancy a one-of-a-kind evening stroll? Discover Maaseik by night! While gathering at the marketplace, the night falls suddenly and creates a magical setting. A guide will then take you on a journey through the city to discover its history. Projections of old photos along the way truly bring the memories of the past back to life. Light-hearted stories and funny anecdotes ensure that you will be drawn back in time. 
Tip: Book in advance at Maaseik Tourism. It costs 4 euros, and is organized every Saturday in July, August and September between 22:00 and 23:00.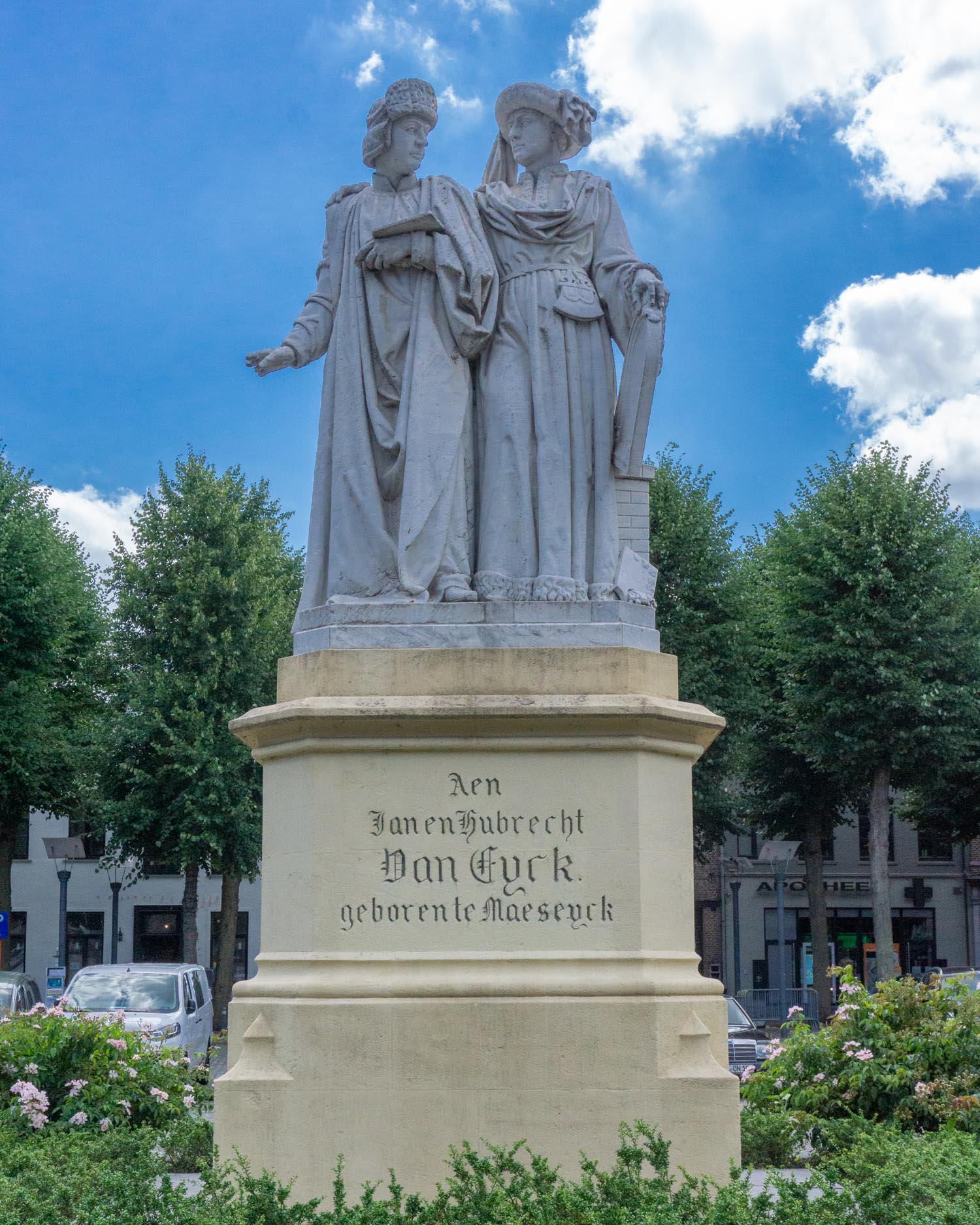 The Market of Maaseik
Around the market of Maaseik, there is a wealth of historical buildings. Many of them date back to the 17th century. Informative signs provide a concise explanation for each building. Head to number 46, where you'll find the oldest private pharmacy of the country. The colourful pharmacy is definitely worth a visit. When you enter the museum, you're instantly catapulted back to the 18th century. From 1704 to 1959, six generations of pharmacists sold pills, ointments and medicine here. Make sure to check out the extensive collection of pots that really steal the show here.
The most striking element on the market itself is the statue of the brothers Jan and Hubert Van Eyck. Many ancient writings showed that these painters (best known for their unique piece 'The Lamb of God') lived in Maaseik.
Did you know that you can also enjoy some virtual museum tours during Corona?
Wijndomein Aldeneyck
Wine grapes in the Maas Valley? This region never ceases to amaze me… In the picturesque village of Aldeneik near Maaseik lies the 10-hectare vineyard of Karel and Tine Henckens-Linssen. You can get acquainted up close with wine growing in the Meuse Valley. Walk through the beautiful vineyards, the press house and the winery accompanied by expert and enthusiastic explanation. All the wines can be tasted as well, which is ideal if you're still looking for a souvenir to take home. View the website for more info and reservations.
Horse riding in Belgian Limburg
Limburg has been a paradise for horse riders for years. Step, trot and gallop from junction to junction over mostly unpaved paths and sandy soil. Numbered signs will show you the way. Get prepared for your stay in the horse province – take a look at paardenprovincie.be. Discover all the horse-friendly cafes and places to stay, and book right away. You can even plan your entire route online!
Float around in a hot air balloon
Hot air ballooning is a great adventure. You never know where the wind will take you. At Ral ballooning, you can even help with all preparations before you float above the Maasland. (By the way, chances are that your landing will take place abroad!) 
In Maaseik, you can truly relax and unwind away from the crowds. It's the perfect place to enjoy delicious regional products, nature and good food – and on top of that, you'll be pampered everywhere. There's a wide choice of boutique hotels and Air Bnbs in the region, and there are also numerous camping sites. 
I must honestly admit that it's been a long time since I came back home feeling so relaxed from a trip. Maaseik is the perfect staycation for both young and old. There's always something going on, as numerous events are organized throughout the year. One thing is for certain – you won't be bored even for a second in this beautiful region! 
Check out the website of Maaseik, for more general info or events.
PIN explore Maaseik – Two days of nature and adventure