Road trip in Germany
I don't know how things are going in your homes, but let's just say that when it comes to watching TV, I am definitely not in charge of the remote! Arne is a football fanatic, and also watches one war documentary after another.
We decided to stay closer to home with our trips this year, and wanted to embark on some travel around Germany. When we decided we wanted to stay more local, he immediately suggested we visit the Buchenwald memorial. My reaction was 'Buchen what???' 
 ** Disclaimer: This post contains affiliated links which means that purchases made through these links reward Bey of Travel a small commission without any additional charge for the purchaser.** 
Buchenwald was a Nazi concentration camp in Germany between 1937 to 1945. If I'm honest, I don't cope well with horrifying confrontations. Tears ran down my cheeks during my visit to The Killing Fields in Cambodia, and I got goosebumps of discomfort when spotting the metal shoes at the Donau docks in Boedapest. A visit to one of the many concentration camps did not score highly on my travel bucket list, but as relations are all about give and take, I agreed to visit the Buchenwald memorial in combination with some other German activities.
I've outlined everywhere we stopped on our German road trip below, including some top tips, entry fees and other important information.
Road trip in Germany
We set off on our German road trip, and our first stop was one of the most beautiful places to visit in the whole country. Burg Eltz is a beautiful German castle which lies merely 3,5h away from home town Antwerp, and it's been on my to-do list for years. 
Burg Eltz
Burg Eltz is one of the best castles in Germany to visit – and it's probably one of the most beautiful castles in Europe. The castle is one of the most Instagram-able places in Germany, and it can be crowded with 'grammers all day around. Did you also know that the castle is still inhabited to this day?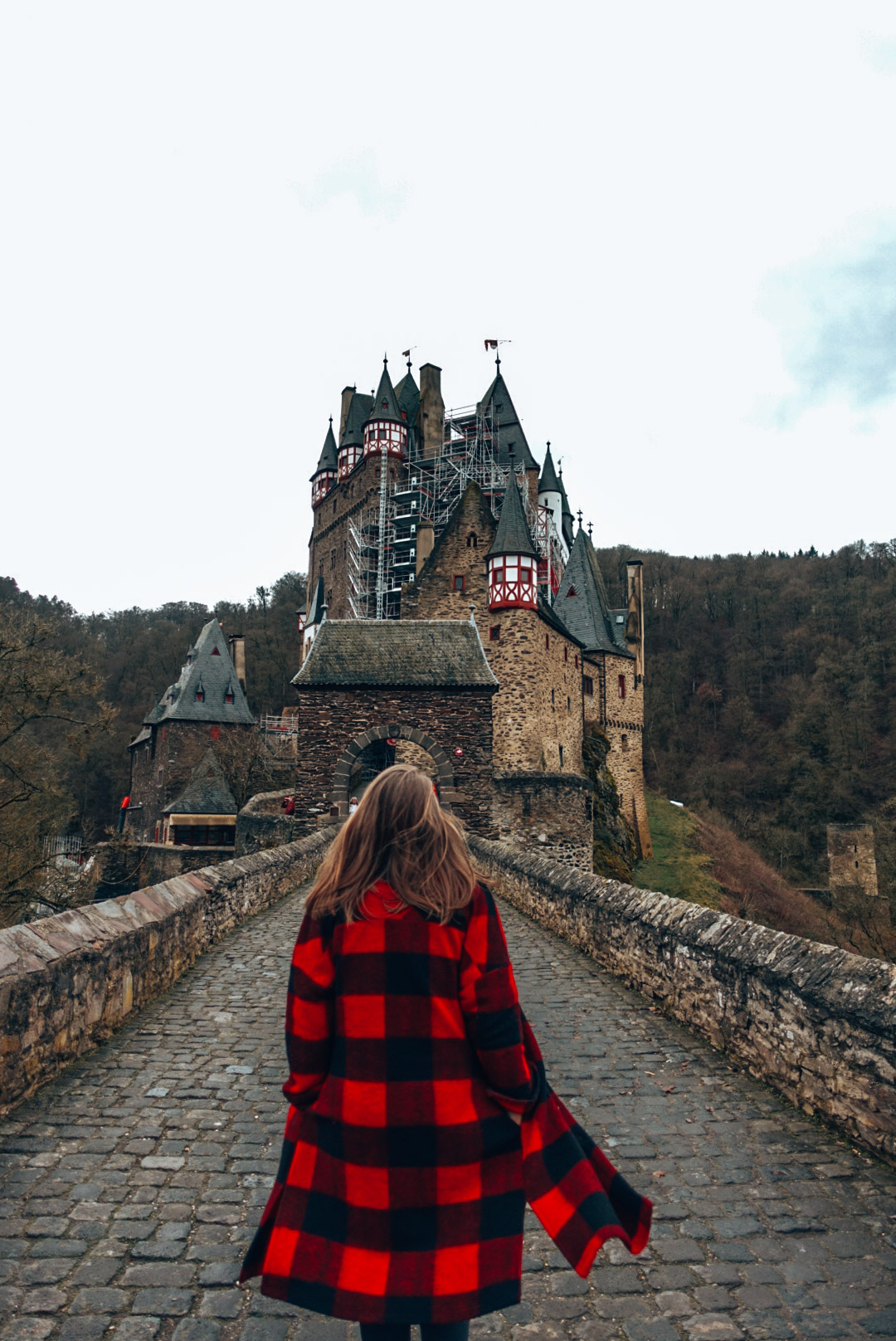 Tips and practical information
Getting there: Burg Eltz lies in the Eltzerbos and can be easily reached by car. You can park at the Ausweich-Parkplatz Burg Eltz for €2. From here, the castle is a ten minute walk down asphalt roads. You can also hike through the beautiful scenery in the Eltze Bos, which takes a little longer but is a stunning alternative.
Address: Kastellanei Burg Eltz, Burg Eltz 1, 56294 Wierschem, Deutschland
Entry fee and opening info: 11 euro. The castle is currently closed for maintenance and will reopen its doors for the public as of April 1st.
There are a variety of long beautiful hikes that lead to the fairytale castle – more info can be found here.
Geierlay suspension bridge
The next stop on our Germany road trip was only 40 minutes drive from Burg Eltz. The Geierlay suspension bridge is the most spectacular pedestrian bridge in Germany, and the second longest in the world. If you're not afraid of heights then this bridge is simply a must-visit! A walk over the 360-meter-long bridge 100 metres above the Mörsdorfer Bachtal is certainly an unforgettable experience.
Even if you're afraid of heights (like me!), this bridge is still definitely worth a visit. 
Tips and practical information

Getting there: From the parking lot, it's a short 2 kilometer walk to the Geierlay Hangbrücke. The road towards the bridge is marked with white symbols of… you guessed it, a bridge.
If possible, try to visit in December during the Christmas holiday period, as the bridge is magically lit up like in a fairytale! Don't forget to dress warmly with an extra coat, scarf and gloves when visiting the bridge out of the summer season.
Entry fee and opening info: The bridge is open 24/7 and is free of charge.  
Road trip in Germany
We continued our road trip in Germany and headed to the remains of the concentration camp in Buchenwald, as this was our main reason for embarking on our road trip adventure. After driving for roughly four hours we stayed in Ramada By Wyndham, which was only twenty minutes away from the Buchenwald Memorial.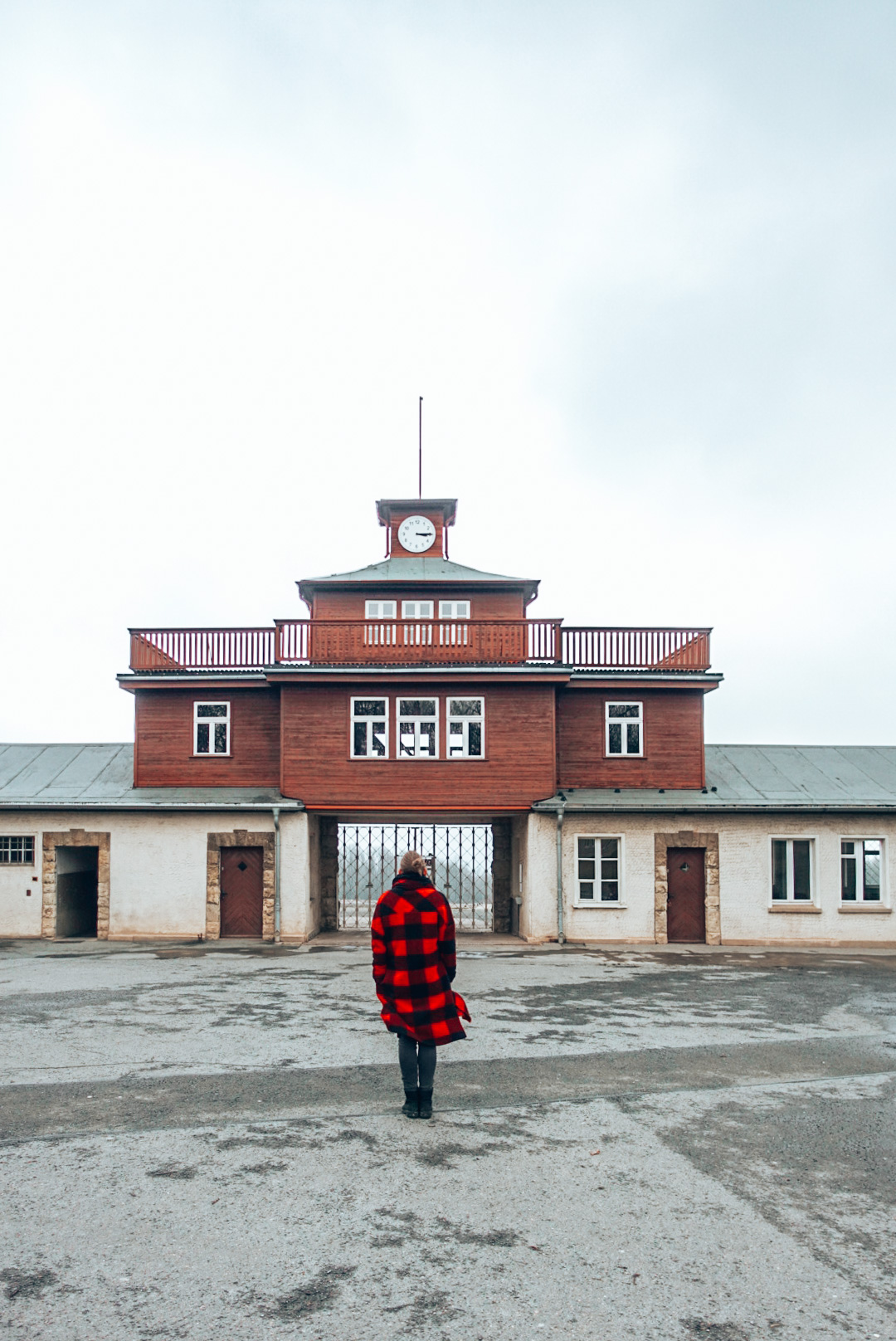 Concentration Camps Buchenwald 
Buchenwald was built in 1937 by the SS. The main purpose of the camp was to imprison anyone considered an 'outsider' of society at the time – this included Jewish people, Sinti and Roma people, gay people, homeless people and more.
Buchenwald became a symbol for the Nazi concentration camp system. As soon as World War II started, people from all over Europe were transported to the camp. Buchenwald was the biggest concentration camp in Germany. Over 280,000 people were imprisoned in Ettersberg and its 139 subcamps. 
Prisoners only got pants and a shirt to protect them from the shivering cold. Due to overpopulation and an acute lack of water, typhus broke out in the camp. Experimental medical tests were performed on prisoners to try and find a cure. 
The SS forced the prisoners to work for the German armament industry. Prisoners were taken to a crematorium with incinerators next to the camp, where they were shot or killed with an injection and burned instantly. Fellow prisoners had to watch their friends or family members walk inside the building, only to never see them walk out again.
When the Americans came closer to the camp, the SS sent 28,000 prisoners on so-called death marches. 1 in 3 prisoners did not survive this horror. By the end of the war, more than 56,000 prisoners had died as a result of torture, medical experimentation and starvation. More than 8,000 Soviet prisoners were shot dead in a specially provided murder room.
On April 11 1945 at 15u15, the concentration camp in Buchenwald was liberated by the American army. At that moment, roughly 45,000 people were still imprisoned in the camp – and many still died from exhaustion even after liberation. The hour of liberation is still shown on the clock above the camp's entrance building.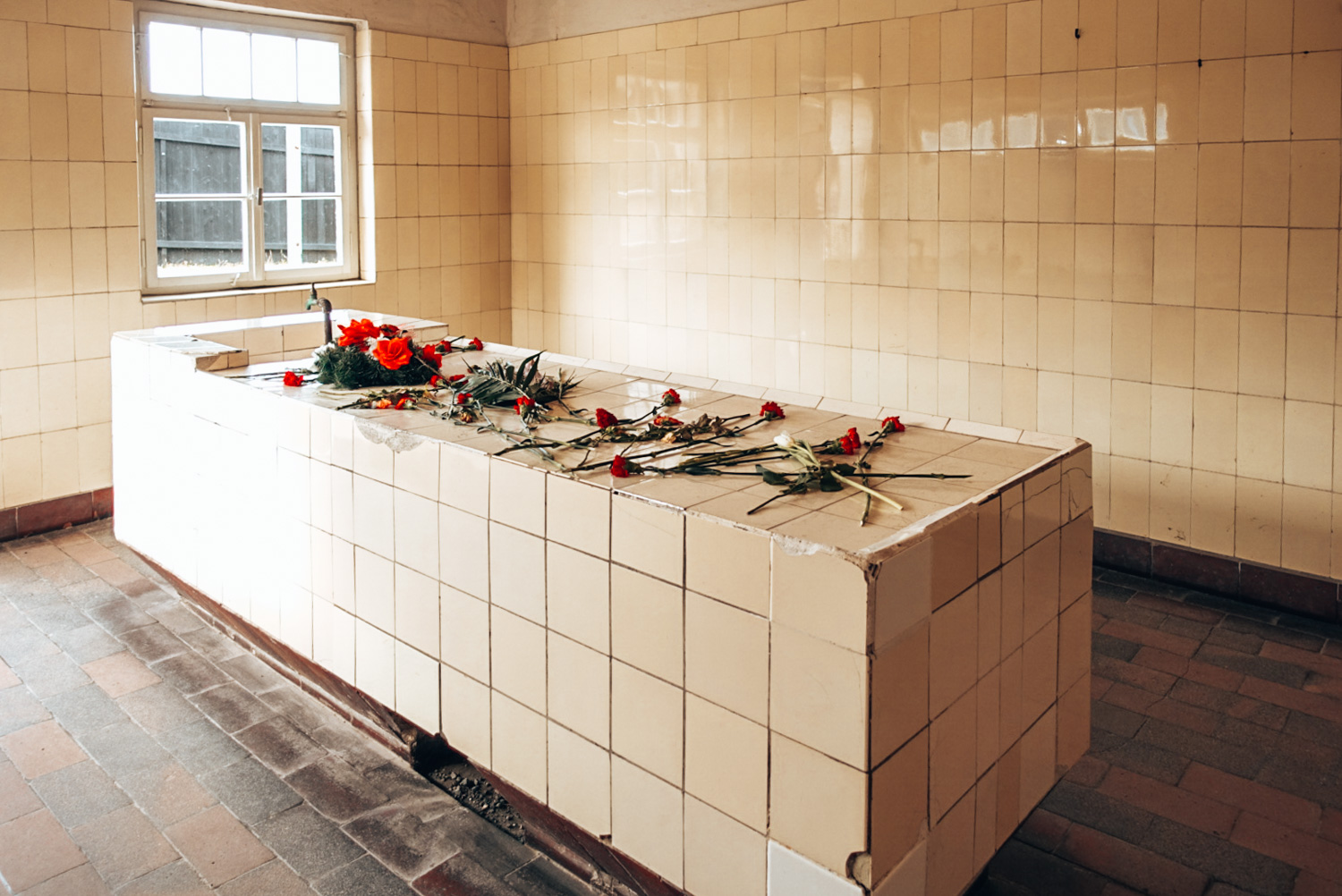 The Buchenwald Memorial in Numbers
Dates

– Buchenwald Concentration Camp 1937-1945

Space

– 400,000 m2, 3500m of electric barbed wire, 139 subcamps

Inmates

– 227,800 in total: 30,000 minors, 28,230 women and 249,570 men from more than 50 countries

February 1938: 2728 inmates

February 1945: 112,050 inmates

Inmate age range: 2 to 86 years

Death toll

– 56,000 dead

1944 men, woman and children sent to Auschwitz on death transports
Buchenwald is a truly horrifying experience and you will shiver when walking around the remains of this evil place. But it is and always will be part of our history, and it's important that we never forget what happened here out of respect to all the people who suffered and died, and also to prevent such horrors ever happening again.
Tips and practical information
Getting there: There is free parking on the Memorial grounds.
Address: Gedenkstätte Buchenwald, 99427 Weimar, Germany
Opening info: 
April – October
Tuesday to Sunday and holidays 10:00 am – 6:00 pm (admission until 5:30 pm) 
November – March
Tuesday to Sunday and holidays 10:00 am – 4:00 pm (admission until 3:30 pm) 
Closed on Monday
Closed December 24 to 26, December 31 and January 1
Make sure you reserve sufficient time for your visit – ours took roughly four hours in total. Ensure you dress warmly – it's mostly an open space with no protection from the wind and rain. Also bear in mind it's not really ideal for a family trip – it's not recommended to take children under 12 to the camp. 
Download the Buchenwald app on your phone and take your own headphones or earplugs with you to listen to the audio tour for free. Alternatively, you can rent an audio guide at the information center for 5 euros. 
Weimar
The charming city of Weimar is an ideal town to stay in if you plan to visit Buchenwald on a road trip in Germany.
The Bauhaus Museum Weimar showcases over 300 pieces, giving an overview on the development of the state-owned company Bauhaus in its founding place, Weimar. Bauhaus opened in April 1919 in Weimar and is still a successful export of German culture.
Discover Weimar by foot and take a stroll through the cozy town. Enjoy a combination of historical education and contemporary experiences, and discover everything you need to know about the Weimar's world known citizens: Goethe, Schiller, Bach, Liszt, Gropius en anderen.
Whilst you're visiting, check out Goethehuis, one of the most important examples of historical Weimar. It's the baroque house of Johann Wolfgang von Goethe, where he lived for 50 years, and where his last years are well documented. The number of visitors are limited to ensure it remains well preserved. 
Tips and practical information
Accomodation: We stayed in the Ramada By Wyndham and were very happy with the accommodation. 
Food: Looking for a restaurant in Weimar? Germany is not particularly known for its haute cuisine, but here are some Weimar restaurants worth checking out during your stay:
Scharfe Ecke

Texas

36 Pho Co
Schloss Dragenburg
We decided to end our Germany road trip with a visit to another fairytale castle. We paid a visit to dragon castle, Schloss Dragenburg, in Königswinter. The owner Stehan Sarter built the castle in 1882 but never lived in it himself. His nephew Jakob Biesenbach then bought the castle years later from the state.  It is positioned in a beautiful natural setting where you can enjoy a nice walk.
Tips and practical information
Address: Drachenfelsstraße 118, 53639 Königswinter, Germany. There is pay parking available near the castle.
Entry fee and opening info: You can find the opening hours online. The entrance fee is 7 euros for an adult and tickets can be purchased online or on the spot.