When visiting Berlin for the first time back in 2017, both my husband and I instantly decided that we needed to make a return visit. The trendy German capital has so much to offer – and  once you've found your way in this big city, I guarantee Berlin will make your heart beat faster. There are so many attractions and locations to pack in – so I've put together a Berlin travel guide to help you plan your trip.
Why should you go?
With its complex past, Berlin has so much to offer to culture lovers and anyone interested in history. Countless museums and monuments commemorate both World Wars and will give you goosebumps. Contrastingly, Berlin is also infamous for it's techno – and you can party any day at literally any given time. If you want to relax and sip something refreshing, you will find cozy coffee bars and great lunch spots on the corner of every street. This buzzing metropolis has something to offer everyone.
** Disclaimer: This post contains affiliated links which means that purchases made through these links reward Bey of Travel a small commission without any additional charge for the purchaser.** 
Best time to visit Berlin
The most pleasant time to visit Berlin is anytime between March and September. From October to February, the weather can turn and it becomes very cold and rainy, although Christmas time in Berlin is also lovely!. 
No Berlin travel guide would be complete without mentioning the Christmas festivities. A Christmas market in Berlin is an absolute must-visit. The Weihnachtsmarkt on the Gendarmarkt comes alive with vibrant live music and street artists. Lucia Weinachtsmarkt is a Scandinavian Christmas market with gorgeous authentic wooden stalls. And finally, Weihnachtsmarkt Schloss Charlottenburg is beyond any doubt one of the best Christmas markets in Europe. The surrounding buildings are beautifully decorated and you won't find a more idyllic spot for a Christmas market.
But I suspect you didn't click on a Berlin travel guide to solely talk about Christmas markets, so let's chat more about how to spend a weekend in Berlin.
How to get there
When travelling to Berlin from Zaventem, Brussels, you are in the air for about 1 hour and ten minutes. You can search for the best flight prices and times on Skyscanner. From the airport it takes about half an hour to get to the city center by taxi, which will cost you around €30. The bus is a cheaper alternative and will take you from Berlin Tegel to Alexanderplatz for €10.
A weekend in Berlin
Getting around
Don't be too optimistic when it comes to walking from attraction to attraction. If you like to venture round a city on foot, you'll soon feel sore thanks to the dozens of leg miles. Berlin is definitely too big to explore without some form of transport. Grab a ticket for a hop-on hop-off bus, or download apps like Free Now or Uber to order a quick taxi.
Where to stay
Around 2-4 nights is the ideal length of time to visit the city. If you're considering a weekend in Berlin, your days will be packed with countless fun activities and must-see tours. With around 14 million tourists a year, there's plenty of choice when it comes to hotels and accomodation in this bustling city. We stayed in The Student Hotel, which was a great base camp to explore the city. Looking for something fancier? Hotel Q! Berlin is a spectacular, almost futuristic design hotel in Charlottenburg. It has a spa on the ground floor for some urban relaxation.
Berlin Travel Guide
What to see
You definitely don't want to miss these sights and attractions during your trip to Berlin:
Visit Alexanderplatz, the heart of Berlin where the Weltzeituhr is located. A clock where you can read the local time of 148 major cities of the world. The square is the ideal base for exploring the city as you can take various buses and trams from here.
Fernsehturm: the icon of Berlin, take the elevator to the rooftop and enjoy the panorama.
Take a look at the Marie-Elisabeth-Lüders-Haus, an architectural masterpiece along the river.
The Berlin Wall, throughout different places in the city you can still find remains of the concrete wall that divided the city in two until 1989.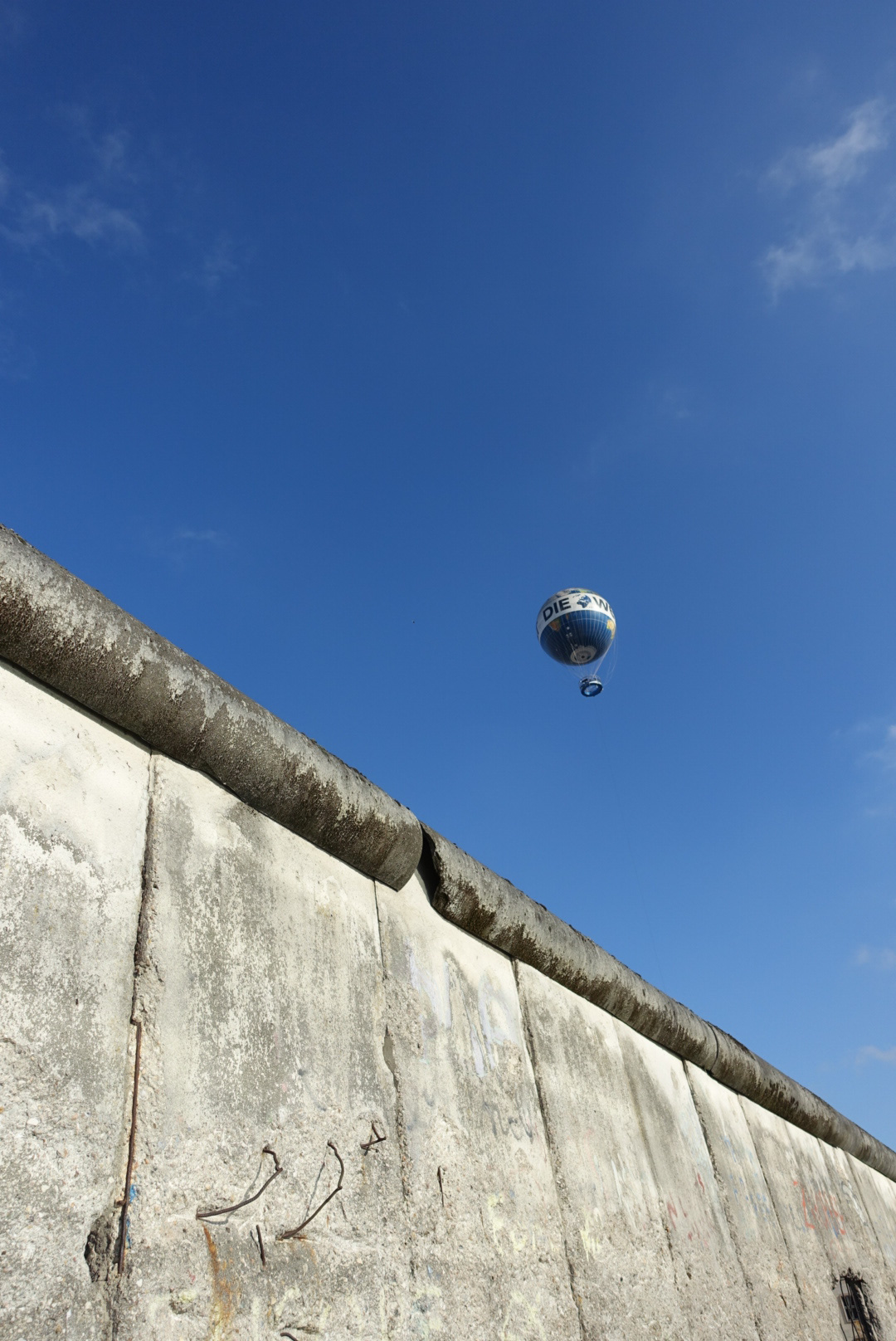 Berliner Dom: the most famous building in Berlin can be found on Museum Island and is definitely worth an inside visit as well.

Visit the

Reichtag

: book your tickets

online

a few weeks before your trip (visiting this government institution is free but you must register in advance). The glass dome offers you a beautiful 360-degree view over the city.
Checkpoint Charlie: even though it was frankly a bit of a disappointment, you have not been to Berlin if you have not visited this place.
Holocaust monument: 2711 concrete elements commemorate the victims of the persecution of the Jews during World War II.
Tränenpalast, a touching museum about the war.
Wasserturmplatz: a romantic park, but also the terrain that the Nazis used for their first concentration camp.
The East Side Gallery is the largest outdoor gallery in the world. But what makes it extra special is that it is built on a remaining piece of the Berlin wall. The paintings were painted just after the fall of the wall as a symbol of the new era.
Urban Nation: a hip art museum with free admission.
As well as the above, be sure to visit Teufelsberg if you can (it's a 35-minute drive out of the city center). This special place was used as a Space Station during the Cold War by the NSA and CIA until the fall of the Berlin Wall. The artificial hill has a dark history – under the hill lay a military technical school of the Nazis. On top of the hill, the American secret service built one of its largest space stations. It is currently a vacant area where graffiti artists still paint murals everyday.
In the east of Berlin you will find the world famous Ampelmännchen. It is the German name for the figure on traffic lights for pedestrians, the design refers to the former German Democratic Republic. In the meantime, the figure has become a typical souvenir of the city.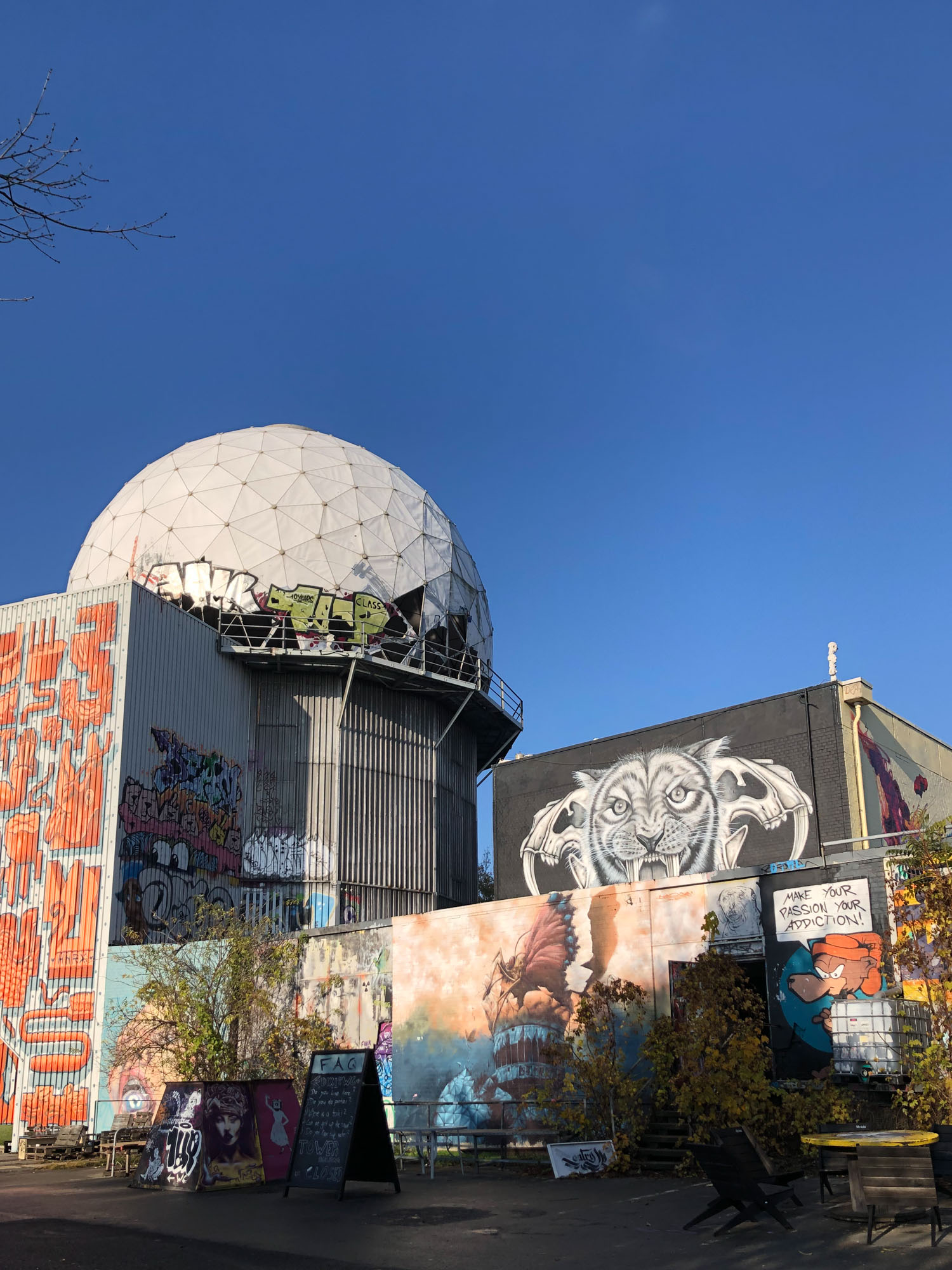 Berlin Travel Guide
Where to eat and drink
Go for breakfast in

Oliv

Sip some coffee

 at

The Barn Roastery

or at Happy Baristas
Buy your own drinks and refreshments and relax with a beautiful view of the water at Holzmarkt
Enjoy a vegetarian lunch in Cookies Cream

Try a v

ietnamese lunch at Monsieur Vuong, wich is super tasty and very cheap. Make sure you try the Pho meal soups!

Go for lunch at the trendy

Neni Berlin

Feeling peckish? Have a snack in the Cupcake

Treat yourself to cocktails in

the Monkey bar

Indulge in a delicious piece of meat at

Fleischerei

Go for a fancy dinner in

Spindler 

(but make sure you book your table well in advance!)
Where to party
No trip to Berlin is complete without visiting a club or two. In Berlin you can party until the early hours, every day of the week. If you're a techno fan try out Berghain, the world's most famous techno club – although even getting into this club is an art in itself. 
You have a better chance of getting in at Zur Wilde Renate or Tresor, where you can still dance to the best techno beats. It's mandatory in most places to tape over your phone's camera when entering a club, as taking photographs is prohibited.
Best view over town
Want to get some amazing cityscape photos during your stay? Visit Panoramapunkt to get those all-important photos. You can reserve your tickets online in advance, and for only €9 you get one of the best views of the entire city.
Where to shop
Berlin is just perfect for shopping, so definitely make time for some retail therapy during your stay. There are lots of lovely boutiques in the Alte Schönhauser Strasse. Do you love fresh tea as much as we do? Then definitely check out Paper & Tea. You can also find lots of brands under one roof in the Mall Of Berlin, which makes it perfect for hiding in during rainy moments.
The Hackesche Hôfe is a formerly troubled area within the city center – but it has now been beautifully restored and transformed into a creative modern hub centred around shopping, work and overall well being. The hub is located in the Berlin Mitte quarters, and it will surprise you with several cozy courtyards connecting all the trendy shops and restaurants.
Finally – why Berlin is definitely worth a visit
I've put together this Berlin travel guide because it's definitely a place you must visit. What I love most about Berlin is its unique dark side. The city's walls are covered with the coolest graffiti art, it has an incredible underground techno scene all year round in the most iconic clubs, and there are countless tough hipsters wandering the streets dressed in all black. 
Berlin is a city of contrasts. The iconic Berlin Wall and other monuments throughout the city bravely showcase the historic scars of a nation across town. But at the same time, Berlin offers you the most beautiful museums, delightful vintage market places, cosy water side terraces and endless restaurants to enjoy delicious and healthy food. 
Although I'm maybe not always the biggest fan of our grumpy neighbors in the East, personally I think Berlin is one of the best cities in the world to visit (and my husband also automatically puts it in his top 3 of favorite cities across the globe!). To top it all off, Berlin is also actually really affordable. So what are you waiting for…Christmas?
You may also like: Our road trip in Germany
Like it? Pin it!