Last week I visited the theme park Efteling in winter together with my sister and my three-year-old niece for two days. My previous visit to this theme park dated already back to primary school. As a child, I thought this beautiful theme park world was awesome, so I was very excited to go on an unforgettable family short break and rediscover the magical theme park.
** Disclaimer: This post contains affiliated links which means that purchases made through these links reward Bey of Travel a small commission without any additional charge for the purchaser.** 
What is Efteling?
The Efteling is the largest theme park in the Benelux and annually attracts more than five million visitors. The Dutch park opened its doors in 1952 which makes it one of the oldest theme parks in the world! It became world famous thanks to its fantasy forest, and several amusement attractions added along the way. The park nowadays covers roughly 72 hectares.
Where is the Efteling?
The Efteling is only a 1-hour drive up north out of Antwerp. Specifically, it lies in the village of Kaatsheuvel in the Dutch province of Noord-Brabant, near to Breda and Tilburg.
Address Efteling: Europalaan 1, 5171 KW Kaatsheuvel, the Netherlands.
How far is Efteling from Amsterdam?
From Amsterdam you will be 1 hour and 15 minutes on the road by car.
How many days you need at Efteling?
If you visit the Efteling with small children, an overnight stay is not a superfluous luxury. You will easy need two full days if you want to discover the whole park and enjoy most of the attractions.
Entrance fees to Efteling?
Adults and children from 4 years old: €40.
60+ and disabled guests: €38.
Children up to 3 years: Free access to the park
Book your tickets online, to save two euros.
Why you should visit Efteling in the winter
1. Much cheaper
We were already trying to plan a weekend in Efteling for ages but the prices for two day entrance tickets and an overnight stay in the Efteling hotel usually account up to € 600 for 3 people (2 adults and 1 child). As we thought these prices were excessive, we postponed our visit. But when we found a promo in our mailbox from Voyage Privée which offered 1 night at the Efteling hotel including breakfast, parking and 2 days access to the park for the three of us for a total of € 240, we didn't hesitate for a second! Holiday pirates also offer cheap deals during the winter period.
2. Never queuing
We visited the park during the week, and it was as if we had the park for ourselves. It was incredibly quiet, and we almost never had to queue at an attraction. If you sleep in the Efteling hotel, you can also enter the park half an hour earlier than the other visitors.
3. The decoration
Winter Efteling is a real winter Wonderland. As if the whole park puts his winter clothes on – all attractions get special winter decoration. There's artificial snow, Christmas trees, countless beautiful lights and you can warm up your hands at the bonfires at each square. The entire park has been transformed into a real winter paradise…
4. In the front row at every show
In the park there are different shows throughout the day, and you are able to experience these from the first row! Also, photo opportunities with Pardoes, which in summer can take for ages, are now no rush private sessions.
5. Enjoy a night in the Efteling hotel
What really struck me was the friendliness of the staff, in the park but especially in the Efteling hotel! For example, my niece received a super tasty and beautiful cupcake and a gift at check-in. After we got into our family room, the phone suddenly rang… It was the sweet receptionist who just wanted to check if everything was as expected. Top service, no? You can find plenty accommodation deals for an overnight stay in the Efteling hotel. Try to avoid school holidays when booking your overnight accommodation.
Book your stay at the Efteling hotel here.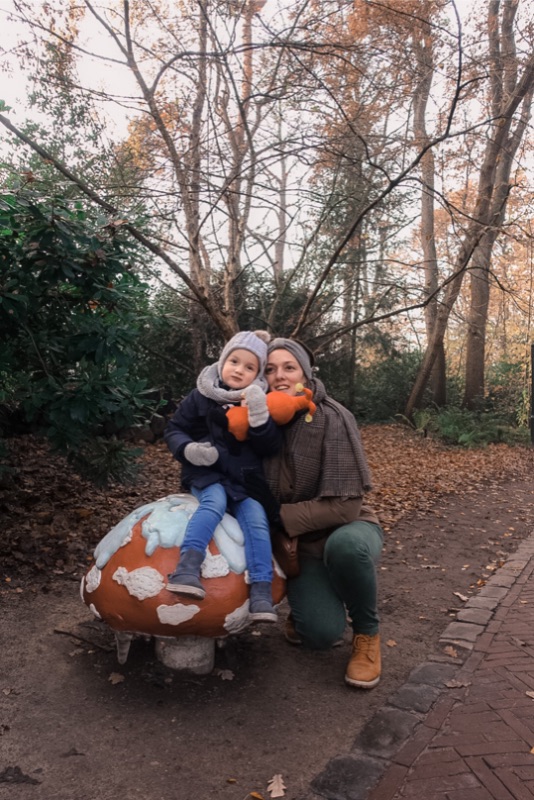 6. Enjoy some winter snacks
During winter events season you will enjoy plenty of wintery snacks, like winter pancake, cookies, Belgian waffles, soups and hot chocolate milk. All can be bought at stalls all around the park.
7. Special winter attractions
The Winter Efteling always is a magical winter fairytale, bringing that much needed winter coziness we need this year. Only during the Winter Efteling, the park adds a 400-metre-long ice-skating rink to its attractions. You can also catch Aquanura, the largest water show in Europe.
Every day, the Snow Princess and Fire Prince will pay a musical visit to the bonfires in their sleigh. Then they will return to their Ice Palace, where there's a real snow slide. Explore many of the other winter attractions in the fairytale theme park, like the winter garden, the indoor ice rink, the fairytale forest, real snow slide, …