We recently headed to Innsbruck – a trip I was particularly excited about. We spent time exploring plenty of the local cultural offerings, eating delicious food and taking in some gorgeous scenery – read more about our Innsbruck trip here. We didn't venture all the way to Austria to only explore the Alpine capital, though. The highlight of our trip was the Inntaler Höhenweg, or Inn Valley high trail: a six-day long-distance hike through the Tux Alps, read all about our expierences in this Inntaler Höhenweg hiking guide.
This was an adventure that I had been looking forward to for a long time! I have to say, I was quite nervous at the start because my physical condition and fitness felt like they were at an all-time low. I had just spent three months at home technically unemployed, and during these emotional months I have to admit, I didn't do much sport or exercise. So I started this hike without any training or preparation. Arne, on the other hand, had reinvented himself during the lockdown, and transformed one of our empty rooms into a fitness room. It's safe to say we didn't start this adventure at the same fitness level, and we noticed that quickly during the hike …
**disclaimer: This is a sponsored post but this doesn't change the fact that I share my own honest experiences.**
Everything you need to know about hiking Inntaler Höhenweg
Starting point: Innsbruck 
Finishing point: Schwaz
Mountain chain: Tux Alps
Length: 71.2 km
Duration: 6 days
Elevation uphill: 3930 meters 
Vertical meters downhill: 5376 meters   
Best time of the year to hike the trail: June – September
Apps to download before hiking Inntaler Höhenweg
Before starting this adventure, it's advisable to download the following useful apps:
ÖBB Scotty – for public transport.
Alp SOS for emergencies – a handy app to have in case of an accident occurring during your hike. When using the app, your GPS location is visible to emergency responders, helping them to find you faster.
My guide to hiking Inntaler Höhenweg
Day 1: Innsbruck / Igls – Glungezer Hütte 
Elevation: 683 vertical meters from the top of the cable car
Walking time: 3 hours 15 minutes
Distance: 7.1 kilometers
We took the bus from Innsbruck – Line J – to the Patscherkofelbahn, and it takes around 20 minutes to get to the cable car. It was nice and quiet – we hopped into a cable car without any queuing, and the ride itself took about five minutes. 
Before we embarked on our adventure, we enjoyed a delicious lunch of local dishes with an amazing view in Das Hausberg. Das Hausberg has a large outdoor terrace and a children's play area. Lunch with a view over the mountains – what better way to get an instant holiday feeling! 
We started our hike in beautiful weather – 27 degrees Celsius, to be precise. Perfect weather conditions for the slightly easier hike on the schedule for today. The first few meters of elevation offered a beautiful view over Innsbruck. The hiking trail was quiet, and the few people we crossed were super friendly. 
After a short while, we got into our first 'discussion' about the road signings. The trails are  clearly marked with arrows every few kilometers – in addition to this, there are also rocks painted with an Austrian flag to guide you through the trails. I thought one of the first arrows we came across was pointing to the right – but Arne was convinced the arrow was positioned upwards. (To be clear, when it comes to directions, I'm ordinarily a disaster. I use Google maps for short trips around the city and blindly rely on my husband when it comes to communication and orientation.) Bathed in sweat, we reached the mountain top – only to realise that we were completely wrong, and the arrow was indeed pointing to the right and not upwards. I wasn't that happy with my husband at that moment – but I was soon distracted by the beautiful view and I was able to laugh about our mistake. 
Once we were back on the right path, we continued our walk to the Glungezer Hütte, a hut at an altitude of 2610 meters where we were warmly welcomed with Schnapps. The cabin is run by a family: mom, dad and their two sons. We had a lovely private room, and we searched diligently for the showers to scrub up after a long day walking in the blazing sun. We soon found out that there was no shower… which definitely put a dent in the holiday spirit! Fortunately, that was quickly forgotten as we tucked into a delicious dinner.
The Inntaler Höhenweg is known for its gastronomy, and is therefore an absolute must! We Belgians do like refined food, and meals are always an important part of our holidays. We usually tailor our destinations to the local food – and wherever we go or stay, it is simply crucial to eat well. When imagining the cuisine in the mountains, my brain immediately went to Wienerschnitzel with sauerkraut (not exactly something to look forward to!). Luckily, this could not be further from the truth. We had a surprisingly good meal in every cabin!
When night started to fall in the Glungezer Hütte, a beautiful sunset was waiting for us. The owner took us to the mountain peak next to the cabin to enjoy the sky changing from bright yellow to deep purple. After we'd enjoyed the sinking sun, he suddenly gave us a briefing for our hike the next day. He instructed us to get up early, as they predicted heavy thunderstorms and potentially even a snowstorm! Hard to believe after such a bright sunny day – but who were we to challenge him? We got into bed early and prepared to leave promptly at sunrise, so we could stay ahead of the thunderstorms and arrive safely at the next cabin.
Day 2: Glungezer Hütte – Lizumer Hütte
Uphill / Downhill: 705 / 1,295 vertical meters
Walking time: 6 hours 45 minutes
Distance: 14.5 kilometers 
The alarm went off painfully early at 5:30am. We enjoyed a delicious breakfast in the Glungezer Hutte and received a nice packed lunch bag to help us get through the day. 
The hike started with a steep climb over rocks, until we arrived on the back of the mountain. I won't lie, I was limping far behind the group at this point. I had shortness of breath several times and wondered more than once why I'd felt the need to get up so early and climb a mountain at 7:00am… 
But those thoughts quickly disappeared when I was on top of the mountain enjoying the beautiful views among the clouds. The rising sun helped me forget all my pains and put a huge smile on my face. This is the feeling that makes any hike worth it. Your head in the clouds, all your worries lying behind, no reception on your phone (and you're physically suffering!). Everything simply falls into nothing when you're enjoying all the beauty the world has to offer. MARVELLOUS!
We continued hiking with people we met in the hut. Don't get me wrong, I love going on vacation with my husband – but this trip was a bit more adventurous and I'm sure if we had continued with just the two of us, it would have been slightly less enjoyable. In a pair, you're much more likely to get irritated at each other when you're tired or in pain. In a group it's slightly different, as you can get to know people and have completely different conversations, Although we normally don't favour group travel, this time it was refreshing to get to know other people and go on an unexpected adventure together.
The rest of our hike was downhill, which was a relief! It's a super pleasant walk, and after all that climbing you finally have the chance to enjoy the view. The dark thunderclouds reminded us that we shouldn't waste too much time along the way, though. We took a quick 15 minute break to eat our packed lunch and then continued on our journey. Half an hour later, we stopped to quickly put our raincoats on – and just a minute later, the rain was pouring down from the sky. We still had about two kilometers on our schedule. The path finally took us back to the somewhat habitable land of cows and farms, and in the distance we suddenly saw the Lizumer Hütte. At this point we were wet to the bone, and all I could think was 'please let there be a hot shower…'  
The Lizumer Hütte is a great cabin! It's run by two friends, Tobias and Lukas. Lukas is responsible for the kitchen, and he runs it very well! They work with local produce sourced from farmers in the area. We ate käseknödelsuppe for the first time, a delicious soup with a ball of cheese, meat and onion. It was just what we needed after such a tough hike.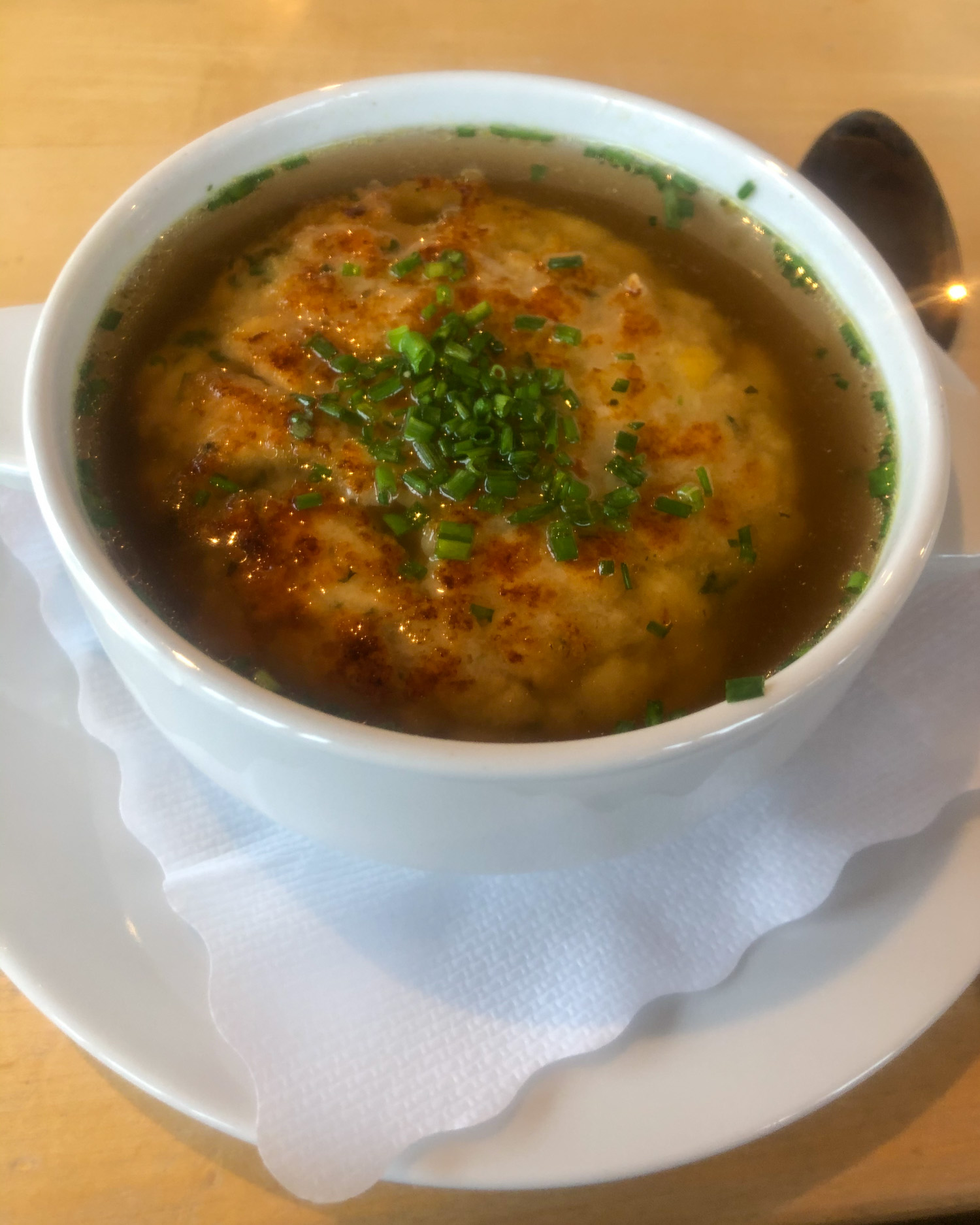 Tobias is responsible for communication, reservations and the administration of the cabin. He greeted everyone personally and took care of the room layouts. We immediately felt right at home! We were assigned to a private well-kept room with a beautifully covered bunk bed, a sink and a stunning view over the valley. And yes, there were showers! It was 3 euros for a token to shower for 3 minutes, and it was worth every penny after our two brisk walking days. The showers were super clean, but make sure you bring your own shower gel.
When booking the cabins, you always have the choice of a private room or a bed in a dormitory. You also get an extra option for a mattress, and the choice to opt for only breakfast or half board. More information and prices can be found here.
That night we were served a delicious three-course menu, which is included when you opt for half board. I highly recommend choosing that option, because you use a lot of energy and burn a substantial amount of calories during the Inntaler Höhenweg, and the food in the Lizumer Hütte is simply fantastic.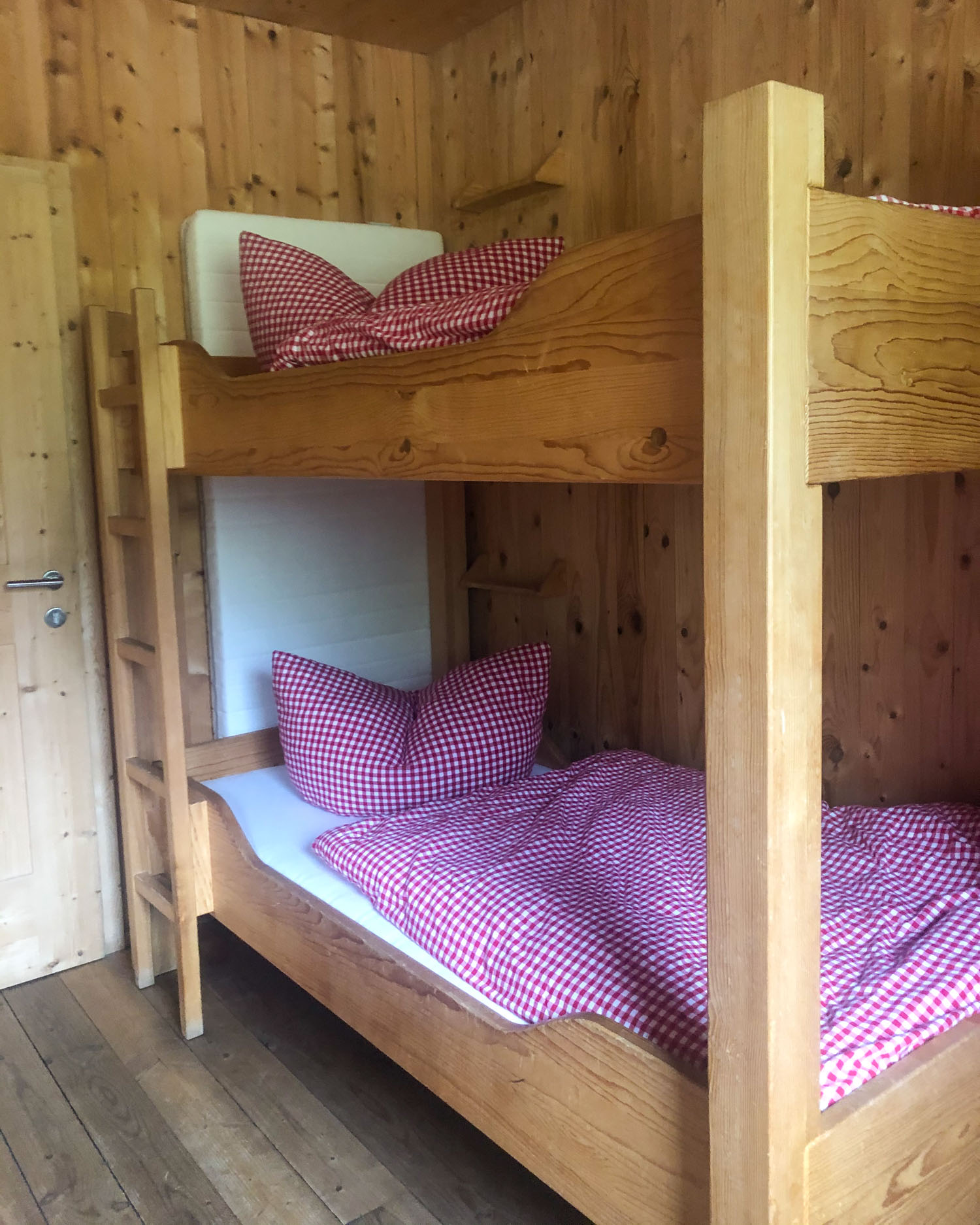 Day 3: Lizumer Hütte – Weidener Hütte
Uphill / Downhill: 672/891 vertical meters
Walking time: 5.5 hours
Distance: 11.7 kilometers 
We slept like babies in the Lizumer Hütte, and I won't deny that it was very difficult to get out from under the warm blankets. I saw rain pattering against the window and my enthusiasm sank instantly. On the schedule for the day was a relatively easy walk of about five hours. 
After just twenty minutes we were absolutely soaked, as the rain kept relentlessly falling from the sky. Our raincoats, which we invested quite some money in and were supposedly 100% waterproof, were far from that. We also realised that rain pants would have been a great idea for the mountains but unfortunately, we hadn't thought of that…
We started with a steep climb, and any sense of fun seemed to have gone. The physical pain was manageable but unpleasant. My knees were suffering and my shoulders were clearly not used to the heavy backpack. Arne was having trouble with his feet, as we had forgotten to break in his new hiking shoes. I spotted him limping and I silently hoped we could get up the mountain quickly. This was the most difficult part, and we knew we had to push through.
The hike continued through some grazing fields. The cows here were much more beautiful than in Belgium – they were a gray brown colour, and all wore a beautiful leather necklace with a bell. We heard the bells ringing from all sides, but unfortunately we didn't get to see a single cow up close because of the fog. There was something decidedly ominous about walking through the misty fields and pine trees.
At the top of the mountain, the wind cut through our wet clothes. We had been hiking for about two hours and thankfully the next three were all downhill, which gave us courage.
When the rain paused for a while, we took the opportunity to stop for lunch. There were now eight people in our hiking group all headed the same way. When the storm took over and the  torrential rain began to pour again, we continued our walk briskly (and I slipped over in the mud multiple times). 
We arrived in a valley, and I imagined this part of the hike must be incredibly beautiful on a sunny day. Frustratingly the fog hid the view, but the walk through the valley remained beautiful nonetheless. This was what we came for – it's the ultimate feeling of freedom for me. On the left, a sort of treehouse emerged suddenly high in a tree, which sparked my imagination. Did children play in this? Were goods stored in it? Was there a ladder? Could I get in? Later I found out that it may be a hunting lodge, where the hunters spend hours waiting…
Even though it was raining cats and dogs, today's walk was actually really pleasant. It was a beautiful stretch through the valley that alternated with scenic parts in the woods. Quite contrastingly, Arne thought it was the most boring walking day. Our tastes differed quite a lot today.
In the distance, we finally saw the Weidener Hütte appear. I was wet to the bone, and with every step I took I felt my feet swimming in my shoes. To get to the cabin we still had a small climb up ahead, which felt like too much at the end of this long day.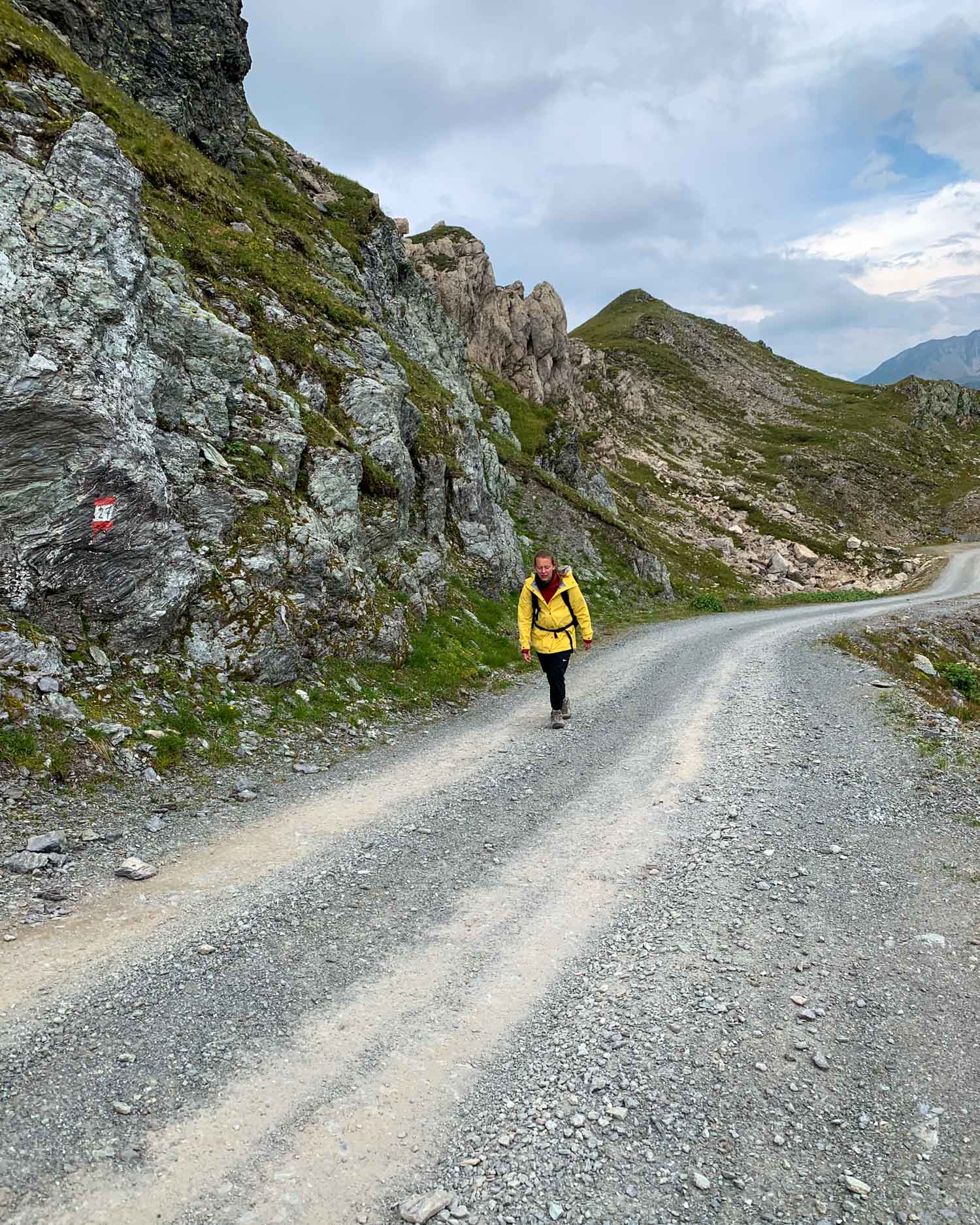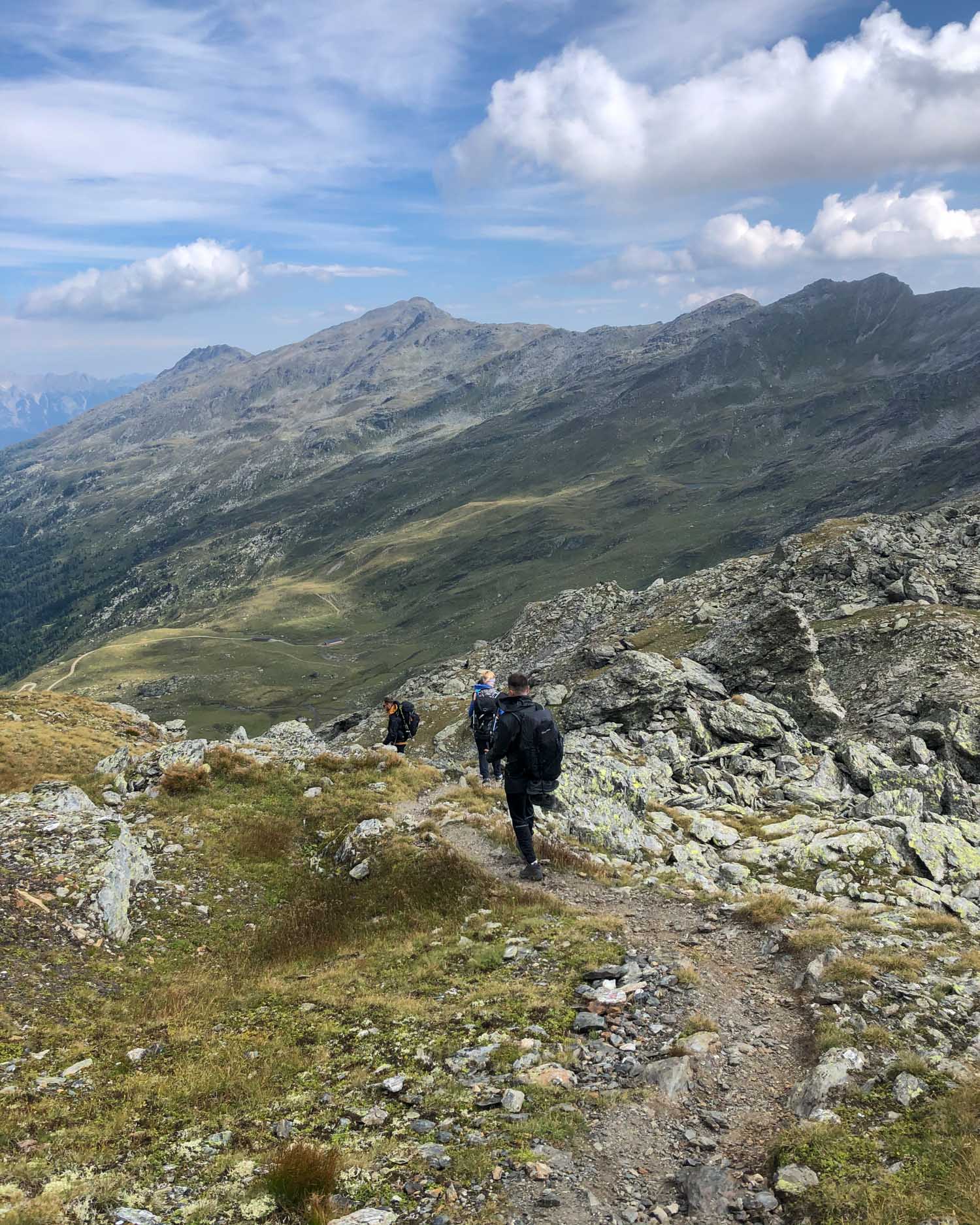 When we arrived in the Weidener Hütte, we took off our shoes and turned them upside down. The water poured out of them – how would we ever get them dry by tomorrow?! We wrung out our clothes in the provided drying room, and I asked for newspaper to stick in our shoes so they hopefully dried a little faster. The friendly manageress told me that they'd installed a special plate that gave off heat so that shoes dry faster – so they're clearly used to this kind of weather here.
We had a cosy room with two bunk beds, thankfully enough space to let everything dry for the night! We enjoyed a lovely warm shower, and came into the dining room absolutely starving.
Once again, we were spoiled with a delicious three-course menu. We got into our bed early afterwards, because tomorrow promised to be a tough day.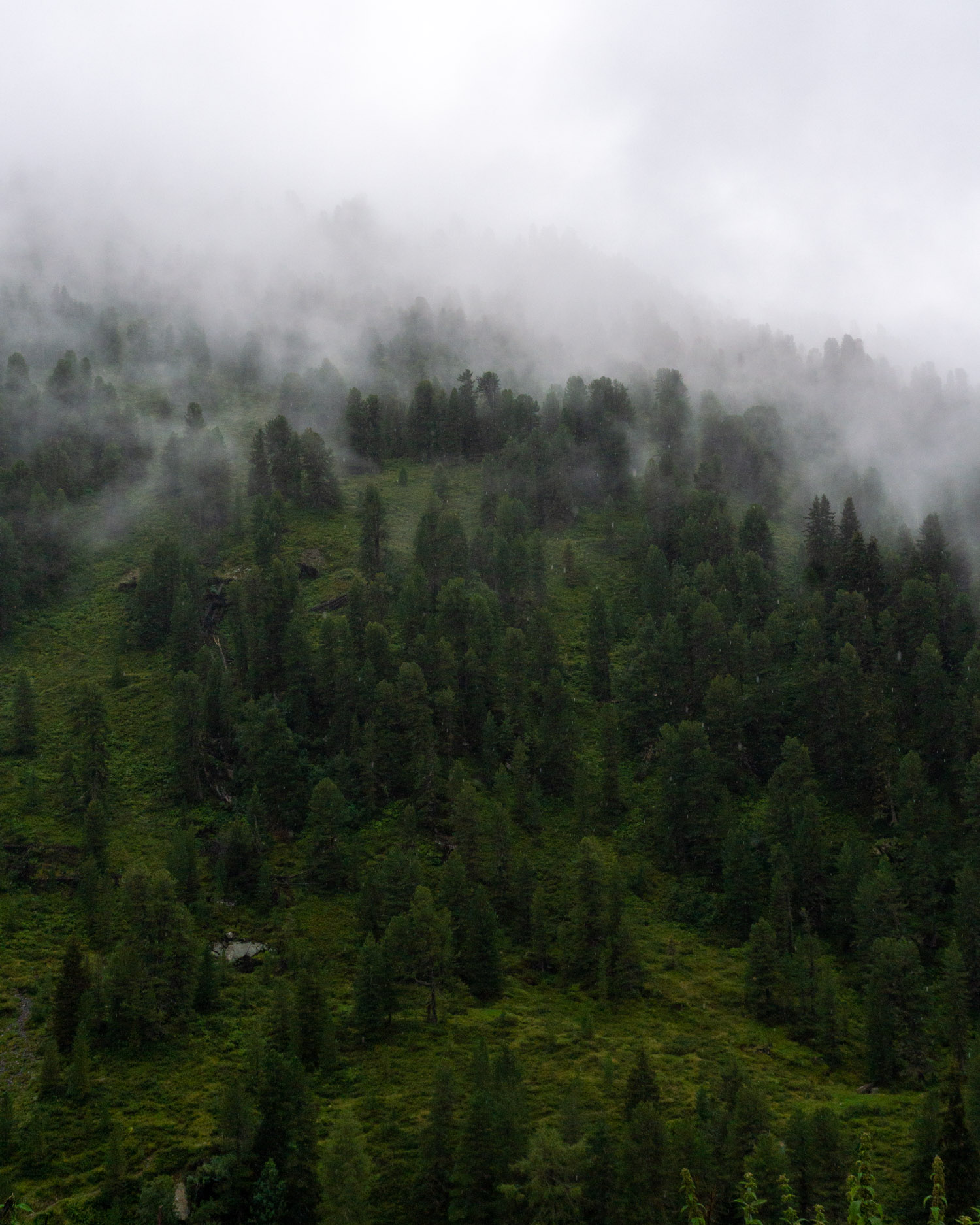 There was a thunderstorm all night long. I woke up several times due to the roaring thunder, and I began to get worried about our walk. At breakfast, we were immediately asked what our plans were for the day and where our trip would continue to. We explained that we planned to hike about 12 kilometers towards the Rastkogel Hütte. But that was instantly strongly discouraged, as the thunderstorm was simply too dangerous and the heavy rainfall wouldn't make it any easier. 
It was Sunday, we had absolutely no reception in the cabin and we had no idea what to do. We were invited on a press trip here by Tourism of Tirol, so we had some agreements to keep. We needed to deliver images, and write an extensive blog post about our experiences. It seemed a bit silly to write a whole blog about a hike that you can't even finish because of the weather.
We were all desperately looking for any other solution. Perhaps a longer route that wasn't so high in the mountains, where the conditions were less dangerous? But we found that was also strongly discouraged. Seven hours of hiking through it would be hell, particularly with a thunderstorm hanging over our heads. Storms like this are simply too dangerous in the mountains.
After long deliberation, we all decided to end our adventure. The whole group walked down to the village of Wattens, dejected and disappointed, and took a taxi to the nearest train station for 10 euros per person. From the train station Fritzen-Wattens, we took a train to Innsbruck for 4.70 euros per person. Fortunately, public transport is well organized here and we only had to wait about twenty minutes for the next train.
Here's how the rest of the hike would normally have looked:
Day 4: Weidener Hütte – Rastkogel Hütte 
Uphill / downhill: 1,049 / 733 vertical meters
Walking time: 6.5 hours
Distance: 12.4 kilometers
Day 5: Rastkogel Hütte – Hochfügen – Kellerjoch Hütte 
Uphill / downhill: 878/759 vertical meters
Walking time: 6 hours
Distance: 14 kilometers
Day 6: Kellerjoch Hütte – Schwaz 
Downhill: 900 vertical meters to Grafenast, 1,730 vertical meters to Schwaz
Walking time: 2 hours to Grafenast, 5 hours to Schwaz
Distance: 6 kilometers to Grafenast, 11.6 kilometers to Schwaz
When we arrived in Innsbruck we decided to head straight to the car, where we had left all our dry clothes and other shoes (an absolute necessity). We decided to stay and explore Innsbruck further – delve into my Innsbruck travel guide to find out more.
How to pack for the Inntaler höhenweg
If you're planning on hiking Inntaler Höhenweg, you need to pack carefully. You'll have your backpack with you throughout the hike so ensure you only take the essentials. 
Here's a list of items you absolutely need to pack for the Inntaler Höhenweg:
A raincoat          

Rain pants          

Hiking shoes (that have already been broken in!)   

Sleeping bag

Clothes for all temperatures – we started our hike in 27 degrees, but in the last cabin the temperature dropped to 5 degrees!          

Travel-size bottles of shampoo and shower gel          

Refreshments for during the walks          

First aid kit (including plasters and disinfectant)    
The Inntaler Höhenweg was definitely a unique experience – even with the bad weather, it was an experience to remember. We hope to go back next year to finish our hike, because we really got a taste for the Austrian Alps. Despite our disappointment, it's still an incredible trip, and one I highly recommend. 
Like it? Pin it!